Renzi Wins Confidence Vote in Italy's Divided Senate
Andrew Frye, Lorenzo Totaro and Chiara Vasarri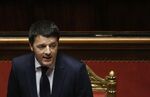 Italian Prime Minister Matteo Renzi won a confidence vote in the Senate, giving his new coalition government a smaller majority in the upper house than his predecessor Enrico Letta.
The 320-seat Senate in Rome backed Renzi 169-139 today after the 39-year-old premier presented his government and laid out his legislative priorities. That compares with the 173 senators who supported Letta in a confidence vote on Dec. 11.
Renzi will speak today in the Chamber of Deputies, which will debate and then hold a confidence vote scheduled to end by 8 p.m. The government's majority should be larger in the Chamber as Renzi's Democratic Party holds 293, or 47 percent, of the 630 seats, compared with 108, or 34 percent, of the seats in the Senate.
Renzi is testing his support in parliament after building his career as a critic of Italy's political establishment. In his speech before the vote, Renzi faulted the legislature for not doing more to end economic stagnation and said he was ready to push forward with constitutional changes, including a reduction of the number of lawmakers, to make the state more efficient.
Shock System
"He is in a race against time now -- and has around between 100 days to six months to shock the Italian political system," Alberto Gallo, head of macro credit research at Royal Bank of Scotland Group Plc, said in a research note.
Winning a confidence vote in each of the chambers of parliament is a required final step after the formation of the new government. Renzi and his cabinet were sworn in on Feb. 22.
The yield on Italian 10-year bonds was little changed at 3.62 percent as of 9:50 a.m. in Rome, after hitting eight-year lows last week. The FTSE MIB index in Milan fell 0.3 percent to 20,415.20.
"Financial markets show a great deal of credit to Renzi but we still expect the implementation of the government agenda as a potentially bumpy ride," Annalisa Piazza, senior fixed-income strategist at Newedge Group in London, said in an e-mailed note.
Tax Cuts
Renzi called for a "double-digit" cut to the payroll-tax rate and said his government is committed to reducing red tape and attracting foreign investment. Government accounts have been irresponsibly run in recent decades, and the state's 2.07 trillion-euro ($2.84 trillion) debt, equal to about 133 percent of gross domestic product, requires attention to spare future generations from suffering the consequences, he said.
"Respect for those who come after us demands that we start looking at the public accounts differently than those who have wasted money in recent decades," Renzi said.
Renzi is the third consecutive premier to take control of the euro area's third-largest economy without winning an election. He won leadership of the Democratic Party in December and toppled Letta's government on Feb. 14 by withdrawing the group's support. Renzi gave the leaders of smaller parties seats in his 16-member cabinet to broaden his support in parliament.
Before it's here, it's on the Bloomberg Terminal.
LEARN MORE