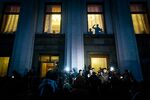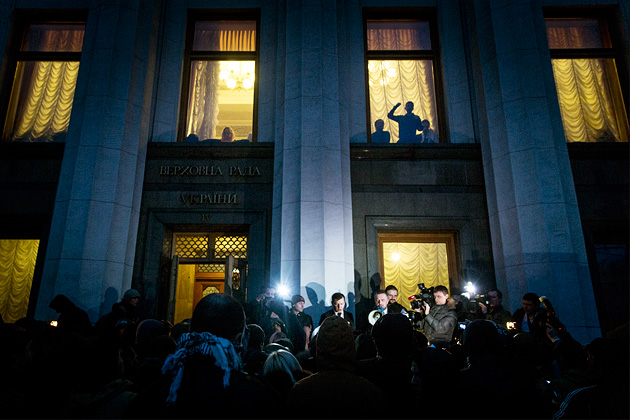 Ukraine has gotten rid of Viktor Yanukovych. What now will it do with the country's oligarchs, the business people who bankrolled the ousted leader while amassing fabulous wealth under his rule?
Public rage against these tycoons helped fuel the protests that toppled Yanukovych. Some, including members of the so-called "family" of the president's relatives and close associates, could face prison time if they haven't fled the country in time. Some also could face seizure of their foreign assets under possible European or U.S. sanctions.
Other oligarchs could play an important role in Ukraine's future—if for no other reason than that they control, by some estimates, more than one-fifth of the country's gross national product. Take Rinat Akhmetov: Ukraine's richest man holds an estimated $12.9 billion fortune that includes control of half Ukraine's steel, coal, and electricity production. "He controls hundreds of thousands of jobs" and is immensely popular in his home region of Donetsk in eastern Ukraine, says Matthew Rojansky of the Wilson Center in Washington. "He's not going anywhere."
Most of the oligarchs started building their empires under previous governments, and many enjoy good relations with opposition parties. Billionaire financier Igor Kolomoyski, for example, helped bankroll past campaigns by former Prime Minister Yulia Tymoshenko, who was jailed by Yanukovych but now looks set for a comeback. "Each of the major oligarchs has got several dozen votes they control" in the national parliament, including some from opposition parties, Rojansky says.
Some business leaders began openly criticizing the government last year, after Yanukovych touched off the protests by spurning a trade agreement with the European Union. They included Akhmetov, media tycoon Dmitry Firtash, industrialist and philanthropist Victor Pinchuk, and confectionery magnate Petro Poroshenko.
These oligarchs supported the trade deal "because they want to export to Europe," Anders Aslund of the Peterson Institute for International Economics wrote in a commentary for the BBC published in December. "Most of all," he added, "they desire legal protection against raids by the Yanukovych 'family.'"
Indeed, recent public anger has been directed mainly at a group of relatively new tycoons. They include Yanukovych's son, a dentist who owns businesses that have scooped up hundreds of millions in government contracts over the past few years, as well as political allies such as acting Prime Minister Serhiy Arbuzov, who also is reported to have amassed great wealth since Yanukovych took power. Arbuzov announced today that he is on sick leave because of a "difficult situation" but is willing to play a role in a new government.
Most of the oligarchs haven't said much since Yanukovych's ouster. "They're trying to stay as neutral as possible, conserve their wealth," says economist Tim Ash of Standard Bank in London. "They want European integration, but they don't want to piss the Russians off, either."
Oligarchs who "haven't already hedged by supporting some of the opposition figures before November" are in a difficult spot, says analyst Edward Chow of the Center for Strategic and International Studies. "Some will become sacrificial lambs." Others will try "to buy their way out."
Rojansky contends that the oligarchs could help finance an economic revival, following the example of American robber barons-turned-philanthropists such as Andrew Carnegie and John D. Rockefeller. That would be in their own interest: "If the oligarchs are viewed as the problem rather than part of the solution," he says, "then [protesters] will force the government to take action against them."
Before it's here, it's on the Bloomberg Terminal.
LEARN MORE