Good News: The Department of Homeland Security Isn't Going to Track Your Car, Yet
By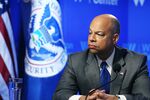 Things are rarely dull at the U.S. Department of Homeland Security. On Tuesday, the Washington Post reported that DHS's Immigration and Customs Enforcement agency was looking for a private company to scan the license plates of passing cars across the country, to create a national database of locational information.
ICE spokeswoman Gillian Christensen said the records would make it easier and swifter for the agency's investigators to apprehend dangerous people. But not to worry, she said: "This database would be run by a commercial enterprise, and the data would be collected and stored by the commercial enterprise, not the government." It's not clear why the DHS thought people would be comforted to know that a private company was collecting and storing data on their whereabouts.
News that the federal government wanted to indiscriminately track citizens' movements did not go over well with the public. On Wednesday, Homeland Security Secretary Jeh Johnson canceled the program.
Then, Christensen issued a puzzling explanation. The solicitation for a company to run the program, she said, "was posted without the awareness of ICE leadership." It's unclear why Homeland Security thought people would be comforted to know that the agency's leaders were clueless about what was happening within the agency they run. From the spokeswoman's explanation, it's possible to draw three conclusions:
1. DHS leaders either didn't know that this plan existed, or they knew but didn't intend for people outside the agency to know about the data collection, at least not yet.
2. The public only learned about it because someone at the DHS messed up.
3. You're forgiven for using exaggerated air quotes when saying, "Department of Homeland Security."
Some members of Congress hinted they're going to want an explanation of what happened. The episode "highlights a serious management problem" at ICE, said Representative Bennie Thompson of Mississippi, the top Democrat on the House's Homeland Security Committee.
Before it's here, it's on the Bloomberg Terminal.
LEARN MORE