A Super-Quiet Chevy Impala Wakes Up the Sleepy Sedan Market
by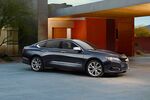 Selling large, non-luxury sedans is an increasingly tough game.
Drivers who want a bit of space have been migrating to crossover SUVs. And those who want to upgrade from a compact or midsized car can now jump in a BMW or Mercedes for less than $35,000.
In other words, for a large sedan to succeed, it can't coast; it has to be a really good vehicle.Chevrolet's new Impala is just that, according to a wide range of critics. Car & Driver calls it "a once-proud prizefighter … eyeing a big comeback." Consumer Reports rated it a 95 out of 100, the highest grade it has ever given a sedan.
Rebuilt from the ground up—as opposed to being "refreshed"—the Impala was a big and expensive bet on a shrinking segment. The returns for General Motors have been handsome, as the Impala has come to dominate an overlooked market.
From June, when the new Impalas hit dealerships en masse, through January, Chevy has sold almost 103,000 of them in the U.S.—40 percent more than its closest competitor, the Dodge Charger. Last month, as the whole auto industry skidded, Impala sales surged by 12 percent.

"We've been extremely happy with it and really proud," says Chevy spokesman Chad Lyon.
How did Chevy pull off such a sales coup? By not making a racket. The Impala, hermetically sealed in laminated glass, is the quietest car Chevy has ever made, according to Lyon. In addition to so-called passive measures such as triple door gaskets and cavity baffles, it also has active noise cancellation—microphones in the cabin that measure and muffle engine noise.
It's also a really safe car, thanks to 10 airbags and a bunch of error-canceling features currently touted by luxury leaders: "crash-imminent braking," lane-drifting alerts, and cruise-control that adapts to changes in the road ahead.
"It's not one silver bullet," Lyon said. "It's the sum of the parts, everything from fuel economy to the way it handles."
This isn't the car for a 30-year-old guy who watches Top Gear. And it's not the car for a family with a big dog. But for a middle-class couple that just wants a safe, smooth ride while zoning out to NPR or gabbing on the Bluetooth, it makes a lot of sense.
Turns out, there is no shortage of people falling into that category. Impalas used to be bought by Chevy loyalists trading up from a Cruze or a Malibu and by the managers of rental-car fleets. The current iteration is winning more retail buyers and market share from other companies, according to Lyon. It's also attracting more affluent drivers—one reason Chevy has been able to push the average selling price up by by about 17 percent, to $30,000.
"It's starting to do a lot of things for us, even beyond some of our expectations," Lyon says. "People actually want to be noticed in these vehicles."
Car & Driver magazine recently broke down the buying decision: "Why splurge $70,000 on an Audi, Benz, or Lexus to impress the neighbors when the same money will buy an Impala and a second ride?"
Before it's here, it's on the Bloomberg Terminal.
LEARN MORE