Dairy Industry Shelves 'Got Milk?' for New 'Milk Life' Campaign
By
For two decades, the milk industry has relied on its memorable "Got Milk?" catchphrase to promote the commodity. The iconic, oft-parodied motto evokes memories of ads featuring celebrities with "milk mustaches" and Aaron Burr trivia. The campaign raised milk's profile and increased sales in California. But nationwide it didn't get people to drink more milk. Consumption has been declining since the 1970s.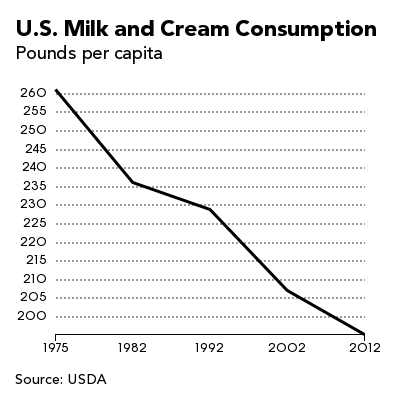 This week, the Milk Processor Education Program (MilkPEP), an industry marketing program funded by milk processors, is replacing the well-known "Got Milk?" slogan with a new campaign called "Milk Life," promoting the drink as a nutritious source of energy and protein, according to Ad Age. Protein is currently a hot topic for food marketers, and the dairy industry has funded studies that support chocolate milk as an energy drink.
A new "Milk Life" ad shows milk propelling a mother and child at play, a frenzied dog walker, a driveway basketball game, and a garage band. A voiceover says, "Start your day with the power of protein. Milk Life."
Since 1995, MilkPEP has licensed the "Got Milk?" slogan from the California Milk Processor Board, which first used the tag line created by ad agency Goodby, Silverstein & Partners in 1993. It will hold on to the license, but it's not clear what role the motto will play in future ads, according to Ad Age.
Declining milk sales in recent decades have been attributed to a drop in daily consumption, with Americans drinking less of it at lunch and dinner (PDF). At the same time, people are drinking more plant-based alternatives such as almond, soy, and rice milk. To promote milk drinking later in the day, last year the California milk board began promoting milk as "The Bedtime Drink" with spots about why sleep is better uninterrupted, presumably via a glass of warm milk at night. That's not quite the message at the heart of the "Milk Life" campaign, which portrays people being "powered" by milk. "They're not conflicting," says MilkPEP's interim chief executive officer, Julia Kadison, of the messages. "Milk has so many benefits."