Cameron, Salmond Clash on Oil as U.K. Cabinet Meets in Scotland
Kitty Donaldson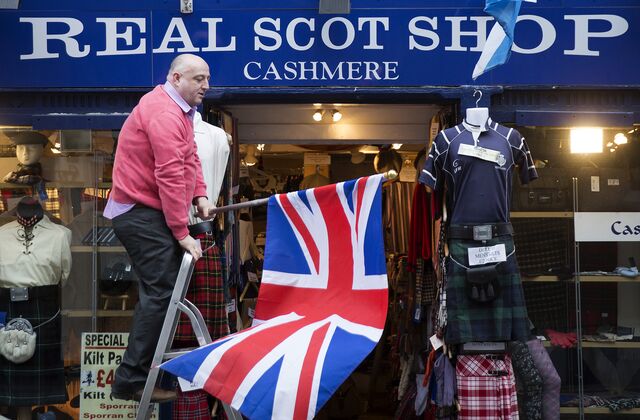 Prime Minister David Cameron said remaining in the U.K. would give Scotland the "maximum benefit" from North Sea oil and gas reserves, as he clashed with nationalist leader Alex Salmond over independence.
The U.K. will commit to greater collaboration with industry to share infrastructure and award production licenses on the basis of maximum petroleum recovery, Cameron's office said in a statement. A new independent regulator to supervise licensing and ensure industry collaboration will be created.
The proposals were recommended in the interim Wood review into North Sea oil revenue, published in November, which identified measures to recover at least 3 billion more barrels of oil than would otherwise have been produced. The added extraction would have a value of about 200 billion pounds ($333 billion) over the next 20 years and secure thousands of jobs in Scotland and across the U.K., Cameron's office said.
The Wood review "makes a very strong argument about the United Kingdom and how the broad shoulders of one of the top 10 economies in the world has really got behind this industry and we continue to stay behind this industry so we get the maximum benefit out of it -- the maximum benefit for all the United Kingdom, including Scotland," Cameron told reporters on a visit to an oil platform in Scotland today.
Scottish voters decide on Sept. 18 whether to leave a union that dates back 307 years. The British prime minister today held his first cabinet meeting in Aberdeen, the focus for the Scottish oil industry.
'Wasted Opportunity'
Meanwhile, Salmond, Scotland's First Minister, addressed his own government ministers in Portlethen, Aberdeenshire, a few miles from the U.K.'s cabinet. The two meetings' proximity was a "wasted opportunity" for a public debate with Cameron, the Scottish National Party leader told reporters in Scotland.
The U.K. government in June appointed Ian Wood, former chairman of oil services provider John Wood Group Plc, to lead a review of the oil and natural gas industry to determine how to get the most from remaining offshore reserves. The statement from Cameron's office's promises to implement all the main recommendations.
Oil and natural-gas tax revenues fell more than 40 percent, or 4.7 billion pounds, in the fiscal year ended in 2013 from the previous year, the statement shows.
"While the U.K.'s broad and diverse economy is able to absorb this volatility, this equates to more than one third of Scotland's health budget or two thirds of Scotland's spending on education," it said. "Scotland benefits as part of the U.K. from being able to pool resources."
Oil Fund
Salmond has said he wants to use North Sea energy resources to underpin an independent economy and maintain social spending. The London-based National Institute of Economic and Social Research said in a Feb. 7 report that an independent Scotland wouldn't be able to get enough money from the resources to create the Norwegian-style oil fund that nationalists have promised as part of their campaign.
"I've got some form in oil and gas as I was an energy economist before I fell among thieves, by which I mean the House of Commons and not the Scottish Parliament or the Scottish Government," Salmond, a former House of Commons lawmaker said, while welcoming the Wood report.
Liberal Democrat Energy Secretary Ed Davey accused the SNP of "putting all their eggs in one basket" by overestimating how much revenue could be raised from North Sea oil and gas and warned against comparing Scotland with Norway.
Not Norway
"I'm afraid Scotland isn't Norway and if it becomes over dependent on the tax revenues of oil and gas it would have to raise taxes an awful lot when the oil and gas declines further, or it would have to slash public expenditure," Davey told ITV's "Daybreak" program today.
Cameron has rarely ventured into the debate on Scotland's independence due to his Tory Party's unpopularity north of the border. Today he said he welcomed an intervention by pop singer David Bowie who on Feb. 20 used his acceptance speech at the Brit Awards to urged Scots to vote to stay in the union.
"I was watching the Brit Awards and when I saw Kate Moss leap to the stage and utter those words I have to say I did let out a little cry of joy," Cameron told BBC News today. "Because I'm sure maybe someone like David Bowie might be able to reach parts of Scotland that perhaps I can't."
Before it's here, it's on the Bloomberg Terminal.
LEARN MORE