Bonobos Heads South and Offline in Another Retail Pact
by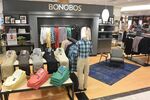 Bonobos first turned heads as a lean, e-commerce darling, but the young business clearly won't be tied to any particular look. Now it's bulking up with department-store distribution and adding to its already beefy product line with dress shirts.
The clothes just hit shelves in the first of seven Belk stores that will carry the brand, stretching across the south from Raleigh, N.C., to Dallas, in what Bonobos deemed the "best" Belks. Here's how the company's brand president, Brad Andrews, described the distribution deal to Women's Wear Daily: "It's a chance to work with a great partner, but it gives us exposure to a region that we're a little underpenetrated in, which is the South."
The tie-up is no doubt a great way to get Bonobos in front of a new group of customers, the type of guys who may not read the fussy fashion blogs that regularly gush about Bonobos. It also makes sense for shoppers who just can't get used to the idea of buying clothes sight unseen, even if there is free shipping both ways. Bonobos Chief Executive Andy Dunn has said about half of his customers want to try clothes on in person.
Nordstrom, meanwhile, has been stocking the garish pants of Bonobos for a while now. The department-store chain bought a stake in Bonobos and will be pushing the clothes into all its full-line stores by this summer.
Bonobos is also stretching out its dress-shirt game, with a range of new styles ranging from $98 to $168. The company, well stocked with casual tops, expects to increase dress shirt sales almost fourfold this year.
Shirts make a lot of sense; cherry-picking retail showrooms does, as well. But Bonobos is undoubtedly straying from its original competitive stance: high-quality, great-fitting clothes for the guy who hates to shop and prices kept affordable because the company skipped right around storefronts, sales clerks, and supply-chain middlemen. Now Bonobos is going after guys who not only shop, but also shop at massive department stores—a business model built on squeezing suppliers and herding masses of shoppers in the door with big sales. Every sport coat and blazer on the Belk website this morning was marked down, and several could be had for less than $60.
The trim inventory that kept Bonobos so sharp is starting to swell quite a bit. Want a pair of grey chinos? Bonobos has about 13 to choose from. Just scrolling through the website is beginning to produce that glazed over look so commonly found on dressing room benches. The company also has a new line of women's apparel under the entirely separate brand AYR.
Every apparel retailer is trying to strike the right balance between online and brick-and-mortar shops. Given its strong start in e-commerce and drift into the world of shelves and hangars, Bonobos is one of the most interesting test cases at the moment. It will probably do a ton of business in Belk, but if the fit isn't great from a brand or business model perspective, the returns certainly won't be free.
Before it's here, it's on the Bloomberg Terminal.
LEARN MORE