Pediatricians See Risk—to Kids and Themselves—in Drugstore Health Clinics
By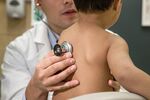 Pediatricians might have a different kind of pandemic on their hands, as a rash of health clinics inside such drugstores as Walgreens and CVS rapidly spread across the U.S., competing for young patients with ruthless efficiency.
This morning the American Academy of Pediatrics rushed to treat the problem by warning families to stay away from any "retail-based" clinics—basically any health provider that also sells Doritos and People magazine (even if the cigarettes have been removed from the store). Here's the crux of the AAP's argument:
"Pediatricians are specifically trained in child health issues. They know each child's health history, and are best equipped to take care of both simple and complicated problems comprehensively within the medical home."
The warning is aimed at companies like CVS Caremark, which has 800 such retail health shops across the country. Dubbed MinuteClinics, the sites include nurse practitioners and physician assistants who diagnose and treat "minor health conditions," deliver vaccines, and monitor chronic conditions.
CVS plans to open another 150 clinics this year and expand the network to 1,500 by 2017. Walgreen hopes to have 500 such clinics by the end of the year, and Wal-Mart Stores has been dabbling in the doctor space as well.
The 62,000 pediatric professionals in the U.S. generally do a bang-up job of making and keeping kids healthy. They have proven far less skilled, however, at running a business. Let's run down the symptoms: bad customer service, opaque pricing, and a dearth of supply, to name a few. Parents magazine has a long list of strategies for visiting the pediatrician: avoid Mondays, bring toys, make sure they don't stick you with expensive prescriptions.
Any parent would rather take their kid to a professional with more than seven years of hard-core training. But having a child suffer through three days of an ear infection just to see a top-shelf pro isn't really a healthy option either. From that perspective, today's warning about retail-based clinics from pediatricians is akin to a car dealership cautioning a driver about the mechanic down the street. The criticism is suspect from the outset.
To a lot of stressed-out parents, it turns out, fixing a kid with a cold isn't all that different from getting an oil change.
"We're often the most cost-effective and convenient option," MinuteClinic President Andrew Sussman said recently in a pitch to Wall Street analysts. "We do not foresee MinuteClinic replacing the primary-care physician, but we do believe that with a shortage of physicians, our collaborative and broadening capabilities can make us an important support and complement to primary-care practices."
A 2009 study by RAND Corp., a nonprofit policy think tank, found retail clinics treated low-grade problems like sore throats and urinary tract infections just as well as doctors' offices and slightly better than emergency rooms. RAND also found the clinics were 30 percent to 40 percent cheaper than traditional doctors.
One of the only natural competitive barriers for traditional pediatricians are rules limiting the scope of what nurse practitioners can handle, regulations that vary widely by state. In the meantime, the competitive prescription for full-fledged doctors' offices seems clear: slash prices, stay open later, and stock up on chips and chocolate bars.