Wisconsin's Walker Says E-Mails Are Old News
Greg Giroux and Jeanna Smialek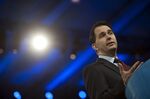 Republican Scott Walker, governor of Wisconsin and a potential 2016 presidential candidate, said e-mails from a corruption probe while he was a county executive are old news being used by Democrats for political reasons.
"They just want to keep pushing this issue into the forefront, because in the end, the folks running against us can't counter our positive message when it comes to the economy and creating budget surpluses," Walker said today on the "Fox News Sunday" broadcast.
Walker, who is up for re-election in November, is dealing with the release of thousands of e-mails from an investigation of the time he was county executive in Milwaukee County.
The release on Feb. 19 stemmed from a probe into conduct by employees of the county executive's office, the post Walker held before he was elected governor in 2010. Potential violations that investigators examined included use of publicly funded resources on Walker's gubernatorial campaign.
That review has grown into a second investigation of possible campaign-law violations during his successful 2012 defense against a recall.
Walker, 46, faced no charges in the first investigation. Six former aides and allies were convicted last year for illegal campaign activity and theft.
Prosecutors "spent almost three years looking at every single one of those communications, interviewing people, talking to people, and closed the case last March," Walker said.
Conference Calls
Walker previously has characterized the activity that spurred the first investigation as behavior by low-level aides that he wasn't aware of. The new documents show he knew county officials were working closely with his gubernatorial campaign staff and had orchestrated daily conference calls between those groups at his request.
"Just because Scott Walker isn't behind bars today doesn't mean he is not guilty of unethical behavior that has broken the public trust," Michael Czin, a Democratic National Committee spokesman, said in an e-mailed statement. "While a second investigation into related conduct moves forward, the governor still needs to explain his actions and how such widespread illegal activity could happen under his nose."
Shortly after taking office in January 2011, Walker pushed to revoke collective bargaining for most public employees in Wisconsin. That move led to weeks of protests at the state capitol, recall efforts against state senators and the failed recall effort against Walker.
Walker said that the scrutiny wouldn't dim his prospects as a potential White House contender in 2016.
"I think we'll lay the issues out" and voters are "much more concerned" about problems with President Barack Obama's health-care policies and creating private-sector jobs, Walker said.
Before it's here, it's on the Bloomberg Terminal.
LEARN MORE