Mozilla, Spreadtrum Introduce $25 Firefox Phone in Barcelona
Scott Moritz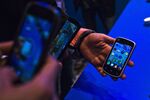 Mozilla Corp., developer of the Firefox browser and operating system, said it has cracked the smartphone price barrier with the help of Spreadtrum Communications Inc., unveiling a $25 prototype.
Jay Sullivan, Mozilla's chief operating officer, introduced the ultra-cheap "reference device," made with low-cost wireless components in partnership with chipmaker Spreadtrum, at a press event at the Mobile World Congress in Barcelona today.
In keeping with the theme of cheaper phones for developing markets at the the wireless industry's largest annual conference, Sullivan said a feature-filled low-cost phone is the ideal first smartphone for many people who haven't been able to afford other models. Mozilla plans to add 12 markets in Asia, Latin America and Africa this year to the 15 markets it entered by the end of last year, he said.
"We are about bringing people online," Sullivan said during the introduction.
At the same event a year ago, 18 wireless carriers, including Deutsche Telekom AG, Sprint Corp. and Telefonica SA, supported the development of an open mobile operating system by Mozilla to build out a range of cheaper smartphones. They're trying to reduce their reliance on Google Inc.'s Android, which dominates the smartphone market.
Before it's here, it's on the Bloomberg Terminal.
LEARN MORE