Indonesia's GDP Growth May Slow to Least Since 2009, Basri Says
Angus Whitley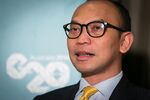 Indonesia's Finance Minister Chatib Basri said economic growth may slow this year to the least since 2009 as the government reins in the current-account deficit.
Southeast Asia's largest economy may grow between 5.5 percent and 5.8 percent in 2014, Basri said in an interview in Sydney yesterday following a meeting of Group of 20 finance chiefs. The state budget had assumed expansion of 6 percent. Gross domestic product expanded 5.8 percent in 2013.
Growth in Indonesia, where elections are due this year, is slowing after central bank Governor Agus Martowardojo embarked on the country's most aggressive rate-tightening cycle in eight years within a month of taking the helm in May. Basri said slower expansion will help deliver a targeted current-account deficit of between 2 percent and 2.5 percent of GDP, down from a record gap of 4.4 percent in the second quarter of 2013.
"We need to continue to slow down the economy until this target is achieved," Basri said. "Then the next government has room for fostering faster growth."
The central bank said this month that economic growth this year will be at the lower end of its forecast range of 5.8 percent to 6.2 percent.
A country's current account is the broadest measure of trade. According to the nation's central bank, the deficit, which helped spur an exodus of funds from Indonesian assets and weakened the currency in 2013, may narrow to 2.5 percent this year, down from about 3.3 percent in 2013.
December's trade surplus was the biggest in more than two years and helped rein in the deficit.
Stronger Rupiah
The rupiah has gained more than 3.5 percent this year against the U.S. dollar, making it the top performer among 24 emerging-market currencies tracked by Bloomberg. It traded at 11,743 per dollar on Feb. 21, and has climbed for three straight weeks, prices compiled by Bloomberg from local banks show.
Last year, the rupiah's 21 percent drop was the biggest among Asian currencies. It was one of the so-called fragile five, a description used by Morgan Stanley to describe currencies most vulnerable to capital flight as the U.S. central bank dials back economic stimulus.
Basri said he's less concerned about the level of the rupiah than its fluctuations.
"We are quite happy to let the rupiah move, but the most important thing is the volatility," he said.
As the Federal Reserve cuts stimulus, Basri said he's concerned capital will leave for the U.S. The government is considering offering incentives to foreign companies in Indonesia to encourage them to reinvest earnings instead of sending them back to their home countries.
The Group of 20 nations yesterday said they will target collective gross domestic product that's more than 2 percent higher than the trajectory implied by current policies.
Basri said he backs such a target, partly because faster growth in developed nations will boost demand for Indonesia's exports. To employ all Indonesia's 2.4 million new job seekers each year, the economy needs to expand at a pace of more than 6 percent, he said.
Before it's here, it's on the Bloomberg Terminal.
LEARN MORE