Wireless Carriers Shrug Off WhatsApp's $33 Billion Impact
By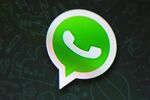 Freebie services like WhatsApp, the messaging utility that costs nothing to download and then just $0.99 annually after one year, cost the world's wireless carriers $33 billion last year in lost texting revenue. By 2016, research firm Ovum estimates, Verizon, Vodafone, and other heavyweights will forgo up to $54 billion in missed fees.
The soaring popularity of WhatsApp, with 450 million users worldwide, is what led Facebook to acquire it Feb. 19 for an astonishing $19 billion. The wireless carriers most affected by its rise, however, seem to be shrugging off the acquisition. Verizon Communications, AT&T, Vodafone Group, Sprint, and T-Mobile US all gained in trading Feb. 20, led by Vodafone at 3.8 percent and Verizon at 3.4 percent.
Coincidentally, Vodafone completed the sale of its 45 percent stake in Verizon Wireless today, valued at $130 billion.
Twitter shares climbed more than 2 percent. BlackBerry also gained on the WhatsApp news, rising as much as 6.2 percent in trading Feb. 20, before closing up 3.8 percent.
One of the crippled smartphone maker's remaining assets is its BlackBerry Messenger service, which in healthier times pioneered many of the features that make WhatsApp so appealing. The BBM network was arguably the most addictive thing in "CrackBerry" devices, zipping short messages to other BlackBerry users on a secure basis, with handy notifications that recipients were typing back or had received the text. Simple stuff, but it was beyond the scope of basic SMS messaging. Now services like Apple's iMessage and WhatsApp deliver the same functionality to users for free. BlackBerry released a BBM app for iPhones and Android devices in October. The company says the platform has 80 million monthly users. That would give the software a value of $3.36 billion, if those users are valued at $42 each, the price Facebook paid for WhatsApp.
Other services similar to WhatsApp, like SnapChat and Kik, are privately held. Rakuten, a Japanese retailer, has lost 11.7 percent since announcing a $900 million purchase of Viber, a voice-based messaging service with 300 million users, on Feb. 14.
As for Facebook itself, shares are up 2.6 percent to a record high of $69.84 just before noon Feb. 21. Analysts at Evercore Partners and Pivotal Research Group have downgraded the stock, however, to a neutral rating. Forty-two of the 51 analysts tracked by Bloomberg still rate the stock a buy.
Before it's here, it's on the Bloomberg Terminal.
LEARN MORE