UNC's Fake-Classes Scandal Reaches Outside-Investigator Stage
Paul M. Barrett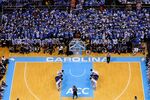 Finally, it looks as if the University of North Carolina may be serious about getting to the bottom of the academic fraud scandal haunting its storied athletic program. UNC-Chapel Hill announced on Friday that it has hired a heavyweight outside investigator to examine the causes and extent of corruption involving hundreds of no-show classes offered by the university's black studies program and favored by basketball and football players.
This welcome development follows three years of denial and obfuscation by leaders at the prestigious Chapel Hill campus. In the face of compelling evidence—much of which I've reviewed here and here—top administrators have refused to admit any connection between the erosion of academics and efforts to keep highly recruited athletes eligible to play. Maybe now that will change. Let's hope so, as UNC has become ground zero in the national debate about whether college sports are distorting universities' educational mission and, in the process, exploiting young athletes.
UNC has hired Kenneth Wainstein, a former U.S. Justice Department and Federal Bureau of Investigation official who is a partner in the Washington office of the law firm Cadwalader, Wickersham & Taft. Wainstein specializes in conducting internal investigations for corporations anxious about employee misconduct and the prospect of government enforcement action. He brings an impressive and appropriate resume to the Chapel Hill assignment: During the George W. Bush administration, Wainstein served as the U.S. attorney in Washington, the assistant U.S. attorney general for national security, and as the White House national security adviser. He has also worked at the FBI as general counsel and chief of staff.
Wainstein, in other words, knows what white-collar and trench-coat wrongdoing look like. Presumably he'll have a nose for tweed-jacket and sweat-shirt rule-breaking as well.
His appointment inevitably recalls the recent investigation at Pennsylvania State University by former FBI Director Louis Freeh. Hired as an outside lawyer to look at how a former assistant football coach got away with serial sexual abuse of young boys, Freeh determined that top Penn State officials participated in a coverup. Three of those officials, including the university's former president, Graham Spanier, face criminal charges, although they have vehemently protested their innocence. (Many Penn State loyalists have desperately bashed Freeh, and I've questioned this reflex to lash out at the bearer of bad news.)
In announcing Wainstein's appointment, Tom Ross, president of North Carolina's public university system, and Carol Folt, chancellor of the flagship Chapel Hill campus, alluded to the pending criminal prosecution of the former chairman of UNC's black studies department, Julius Nyang'oro. Ross and Folt said that they were bringing in an outside investigator to assess "new information that may become available" as the result of the Nyang'oro prosecution. Orange County, N.C., District Attorney Jim Woodall, who is overseeing the criminal case, "has indicated that he will cooperate with the [Wainstein] inquiry," according to UNC's press release, "and that he can now share with the independent counsel as much information acquired by his office during the criminal investigation as determined to be appropriate."
Previous university-sponsored committee reports and pronouncements have ascribed the proliferation of phony courses at UNC to the supposedly rogue actions of Nyang'oro and his former administrative assistant. Nyang'oro has denied the charge against him of defrauding the university and said, via his lawyer, that he has a very different story to tell—one that would implicate others on campus. The threat of Nyang'oro trying to spread the blame may have played a role in the decision to hire Wainstein. "Based on information that the district attorney is able to offer," UNC said, "Wainstein will take any further steps necessary to address any questions left unanswered during previous reviews commissioned by the university."
Here are a few unanswered questions that I offer to Wainstein, without any obligation that he share his fees:
• Did UNC athletic department employees pressure or encourage Nyang'oro to offer fraudulent classes and inflate athletes' grades?
• Did athletic department employees steer football and basketball players into the phony classes?
• Did athletic department employees do anything similar in other departments?
• As a result of the pattern of top athletic recruits piling into no-show classes, does the National Collegiate Athletic Association need to examine retroactively whether some basketball and football players were eligible to play? (So far, the NCAA has followed UNC's lead in insisting obtusely that the Chapel Hill scandal was purely academic in nature, not athletic.)
The point here is not to rush to judgment or to invite overly punitive measures that would embarrass current or former UNC athletes or the university as a whole. Instead, the point is to find out what really happened and why. And then it will be urgent for UNC and the NCAA to take appropriate corrective steps so that the gravity of robbing athletes of the education they were promised isn't soon forgotten.
NOTE: Peter Grauer, the chairman of Bloomberg L.P., which owns Bloomberg Businessweek, is a trustee of the University of North Carolina at Chapel Hill and sits on its Foundation Board and the UNC Global Research Institute Board.
Before it's here, it's on the Bloomberg Terminal.
LEARN MORE