Sanitation Tycoon Gives Record Gift to the University of Florida
by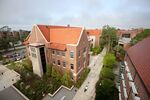 A trustee of the University of Florida and his wife will give the school $75 million, the largest gift it has ever received, UF announced on Friday.
Al Warrington IV and his wife Judy pledged the money to increase an endowment for business professors that will contribute to curriculum development and research.
"We challenged ourselves to think big and concluded our greatest impact would be to invest in our business college's faculty," Warrington said in a statement.
Warrington, who received a degree from UF in 1958, founded Houston-based Sanifill, which later became Waste Management. His previous donations to the school totaled $28 million. The university's undergraduate business college was named for him in 1996. The combined $103 million the Warringtons have given UF makes them its largest donor.
The gift adds Warrington and his wife to a list of business luminaries who have pledged sums in six-figure millions to boost institutes of higher education, including Citadel Chief Executive Officer Ken Griffin, a billionaire who this week gave Harvard University $150 million, that school's biggest donation ever.
Universities and their business schools have long been supported by well-heeled alumni; in recent years executives Stephen Ross and David G. Booth have made contributions of $300 million or more to the University of Michigan and the University of Chicago, respectively. The graduate business schools at those universities bear their names.
Millionaires and billionaires who give hundreds of millions to their alma maters do so for a number of reasons, and getting one's name on a B-school is certainly a perk. But as Bloomberg Businessweek's Bryant Urstadt points out, big-money donors get other benefits as well, including tax write-offs.
Higher education endowments continue to grow as alums and others direct charity toward schools. Graduates of Harvard broke gift-giving records for the school last year. As a whole, school donations have swelled: U.S. colleges and universities received $33.8 billion in gifts in 2013, a 10 percent increase over 2012. That's the most the industry has raised on record, according to the Council for Aid to Education, a nonprofit that studies higher education fundraising.
Whether prominent alums do it to raise the profile of their schools or to get a break on their taxes, the multimillion dollar university gift hardly seems to be going out of fashion.
Before it's here, it's on the Bloomberg Terminal.
LEARN MORE