Risks From Asset Managers to Get More Scrutiny, White Says
Dave Michaels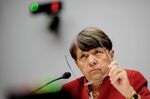 The U.S. Securities and Exchange Commission is considering an increase in its oversight of the risk posed by large asset managers such as BlackRock Inc.
The agency's staff is drafting a plan to expand its stress testing of mutual funds and require more robust reporting of data, SEC Chairman Mary Jo White said in a speech today in Washington. The effort draws on the work of former portfolio managers and investment analysts who now work at the SEC, White told a conference sponsored by the Practicing Law Institute.
A study issued in September by the Treasury Department's Office of Financial Research said money managers could endanger the financial system when reaching for higher returns, herding investors into popular asset classes, or amplifying price movements with leverage. White told the Senate Banking Committee this month that the SEC "agreed to disagree" with Treasury economists on some of the study's findings.
"The SEC of 2014 is an agency that increasingly relies on technology and specialized expertise," White said today. "This is particularly evident in the SEC's new risk monitoring and data analytics activities. One important example is the SEC's new focus on risk monitoring of asset managers and funds."
Industry Criticism
The Treasury Department's study has attracted criticism from the fund industry and congressional Republicans even as regulators study whether firms including BlackRock and Fidelity Investments should be subject to stricter oversight by the Federal Reserve. The study's authors have defended the report as fair and told House lawmakers this month that the report doesn't by itself mean asset managers will be designated as systemically important financial institutions.
The SEC's move may satisfy asset managers such as BlackRock, which want to remain under the regulatory umbrella of the SEC. "This may be an example of where systemic concerns need to be incorporated into existing regulatory practices," BlackRock wrote in a comment letter in response to the OFR report.
Brian Beades, a spokesman for BlackRock, the world's largest fund manager, declined to comment. John Woerth, a spokesman for Vanguard Group Inc., didn't immediately respond to a request for comment. Eileen O'Connor, a spokeswoman for Fidelity Investments, declined to comment. Vanguard and Fidelity are the largest and second-largest U.S. mutual fund companies.
'Brilliant' Move
The SEC's move to enhance oversight of the $15 trillion mutual-fund industry is "brilliant," Commissioner Daniel M. Gallagher said today. The financial crisis led to criticism that regulators didn't know enough about money-market mutual funds such as the $62.5 billion Reserve Primary Fund, whose failure in 2008 triggered a run on the funds, Gallagher said.
"We need to know more about these firms," Gallagher said on the sidelines of the conference. "We can only do that through a new program, so I give her tons of credit for that idea."
The SEC proposed new regulations in June to cover the riskiest money-market mutual funds. The plan would require funds that invest in corporate debt and cater to institutional investors to adopt a floating share value or allow them to suspend redemptions in times of stress.
SEC Commissioner Kara M. Stein said today that the SEC's plan doesn't go far enough to address the risk posed by money funds. The agency should consider "whether enhanced capital, leverage, liquidity, and margin rules would help mitigate risks," Stein said at the conference.
Before it's here, it's on the Bloomberg Terminal.
LEARN MORE