Why Hollywood Struggles to Quickly Clone Animated Hits
By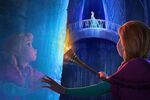 With the runaway success of Disney's Frozen and the explosive opening of Warner Bros.'s The Lego Movie, animated films have had a great run in recent months. When a live-action movie becomes a big hit, it's not long before imitators—both real and imagined—show up on the horizon. Doing the same in the animation world isn't quite so simple.
"A lot of people who aren't in the industry don't realize how long it takes to get an animated film made," says David A. Price, author of The Pixar Touch. "The development process is quite long, and then production itself takes a couple of years. An animator turns out about three seconds of finished animation a week."
Those best positioned to take advantage of these films' success are the companies that created them. A Lego Movie sequel is already in the works, and Warner will likely schedule the next one during a more competitive season, such as summer 2016. That's actually a remarkably short period of time in which to produce a high-profile animated film, but the Lego folks have a technological advantage. As producer Dan Lin recently told the website Collider: "We've been augmenting the Lego digital builder, so we have the technology to make the movie faster."
The box-office hit came from the toy company's first-ever theatrical release, but The Lego Movie wasn't actually Lego's first feature-length film. Just last year, the company released Lego Batman: The Movie—DC Super Heroes Unite and in 2010 put out Lego: The Adventures of Clutch Powers. Warner Bros. and Lego are also working on a feature-length film called Ninjago, a ninja-themed Lego brand that has already inspired a hit Cartoon Network animated series. Look for production on that to begin quite soon to take advantage of the new film's success. Existing franchises, of course, can speed up faster than originals because very often key character design and development has already occurred.
Could a Frozen sequel also be in the works? Disney tends to shy away from theatrical sequels to its features, instead relying on similarly positioned original films to carry the day. Last summer word had already filtered out that Disney was working on Giants for 2016, another musical fairy-tale reboot that seeks to do for Jack and the Beanstalk what Frozen did for Hans Christian Andersen's The Snow Queen.
As for a new Disney princess movie, fans will have to wait until 2018 for the studio's South Seas-set Moana. Could that open sooner, to capitalize on Frozen's success? Not likely, as even concept art for the film hasn't been released yet. In the meantime, Disney could conceivably try to spin off Olaf the snowman (a fan favorite) in a series of direct-to-video shorts, not unlike the way the studio took advantage of Mater the tow truck from Cars. Illumination Entertainment, responsible for the Despicable Me films, has done something similar with popular short videos featuring the beloved Minions.
Other companies looking to capitalize on these films' success will have to tread carefully. Last November, the small distributor Phase 4 Films replaced the U.S. home video art for the Canadian animated film The Legend of Sarila, changing the title to Frozen Land and even using Disney's own Frozen logo. The Mouse House immediately took legal action, and in January the parties reached a settlement preventing Phase 4 from referring to Frozen in any of its marketing materials.
Another possibility for a Frozen-related animated film was dangled last December when Minkyu Lee, an animator and visual development artist who worked on the Disney hit, posted some images he had created years ago for an animated film based on Wicked, the long-running Broadway show featuring characters from The Wizard of Oz. A live-action film of that property has been in development hell for years. Could it now be reimagined as an animated film? The producers would be crazy not to at least consider it. They could even get Idina Menzel, Frozen's own Queen Elsa, to reprise her Tony-winning turn as Elphaba, the future Wicked Witch of the West.
The fact is that while imitation can be hard in the animated world, it's not unheard of. "Back in the 1990s, after the success of Beauty and the Beast and The Little Mermaid, you had lots of companies trying to fit musical numbers into their films," recalls industry veteran Tom Sito, now an animation professor at the University of Southern California and the author of Moving Innovation: A History of Computer Animation. Genndy Tartakovsky, director of Hotel Transylvania and the upcoming Popeye, for Sony Pictures Entertainment, says something similar could happen now: "I'm sure there are studios all over town going through their vaults looking for animated film ideas with strong female characters, as a result of Frozen."
But in many ways, Tartakovsky suggests that recent successes will end up being most helpful for animators working on their own dream projects. "Both The Lego Movie and Frozen have actually been very helpful to us as we work on Popeye," he says. "We're trying to contemporize a property that has been around for decades, while also keeping the essence of what it's been for 50 years. Both of those movies have done that so well, in different ways."
Before it's here, it's on the Bloomberg Terminal.
LEARN MORE