Kraft Wants to Sell You a Protein Trinity: Meat, Cheese, Nuts
By
Kraft calls to mind boxes of mac and cheese, plastic wrapped slices of American cheese, or even Velveeta. The conglomerate owns Oscar Mayer and Planters, too. Now Kraft is starting to regroup some of its various food products under a single category: protein.
Kraft is launching a new Oscar Mayer product called P3—short for Portable Protein Pack—that's a cheese-meat-nut combo, or what Chief Executive Tony Vernon called "the Holy Trinity of Kraft." The three-compartment snack pack delivers 13 grams of protein through Oscar Mayer Selects meat, Kraft Natural cheese, and Planters nuts. "No one else can pull this off, all under one roof, as Kraft can," Vernon claimed in a call with analysts this week.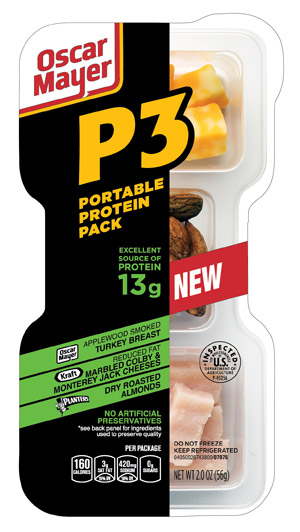 Even Philadelphia cream cheese has been given a protein revamp. Kraft recently introduced a Philadelphia 2x Protein Cream Cheese Spread, which will contain twice as much protein, at 4g per serving, as the regular variety.
Pursuing a strategy around protein is a natural fit for Kraft. Sales of dairy, meat, meat alternatives (such as soy burgers), and nuts—foods that can be good sources of protein—already account for more than 40 percent of its revenue, according to company data. (Kraft brands like Kool-Aid and Miracle Whip aren't much help in the protein area.) One slice of American Singles has 4g of protein, while a serving of Velveeta has 5g. Same for an Oscar Mayer hot dog. A handful of Planters peanuts: 7g.
Other companies have picked up on the marketing potency of protein, too. Taco Bell, for instance, tested a "Power Protein" menu last summer.
The recommended daily allowance of protein for adults ranges from 46g (for women) to 56g (for men). That's at least six or seven handfuls of peanuts.
Before it's here, it's on the Bloomberg Terminal.
LEARN MORE