Can Google Eat All That Fiber?
By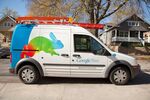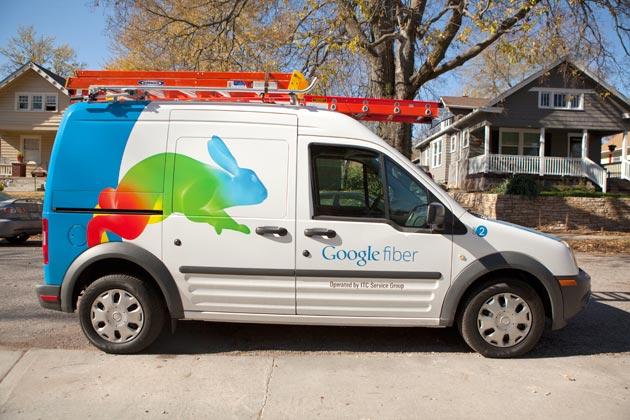 Money for nothing, and your clicks for free.
That kind of late 20th century thinking seems to be back now that Facebook (worth $176 billion, or the equivalent of three Time Warners) is buying WhatsApp, a whimsical developer that—let's face it—few of us ever heard of 48 hours ago, for $19 billion, or $21 per eyeball. Don't believe me? Go ahead and Lycos it yourself.
Let those numbers sink in while you read this: Netflix, the maker and streamer of House of Cards, has been known to hog a third of all North American peak Internet traffic. Since the film library rolled out super-HD video to all users some months back, Verizon FiOS, AT&T, Time Warner Cable, and Comcast subscribers have noticed their streaming speeds slow noticeably. And Comcast wants to snap up Time Warner Cable, to boot. Read this essential piece on the state of U.S. broadband investment by my colleague and friend Brendan Greeley. And this one I did four years ago on the iPhone's all-you-can-eat users crashing AT&T's wireless network. Parallels abound.
Google, which has market capitalization of about $405 billion (plus $60 billion in cash, plus a derelict blimp hangar), just announced it's expanding its fiber network rollout, which Netflix consistently clocks as the speediest in the sector. Google Fiber claims to be 100 times faster than the typical household broadband connection—good enough to download an entire HD flick in half a minute.
"We've long believed that the Internet's next chapter will be built on gigabit speeds," the company remarked Wednesday in a blog post. "So it's fantastic to see this momentum. And now that we've learned a lot from our Google Fiber projects in Kansas City, Austin, and Provo, we want to help build more ultra-fast networks. So we've invited cities in nine metro areas around the U.S.—34 cities altogether—to work with us to explore what it would take to bring them Google Fiber."
While money seems to be no object for Google—it can easily tap the debt capital markets to leverage its envied balance sheet and market cap—the cost of a full nationwide rollout of Google Fiber could well hit $140 billion, according to Goldman Sachs estimates. By comparison, Google made $2.26 billion in the way of capital expenditures—mostly for production equipment, data-center construction, and real estate purchases—in its latest quarter. "We expect to continue to make significant capital expenditures," management predicted in the release.
Google's pretax profit margin of 24 percent is fully 7 percentage points higher than that of Comcast, a capital-intensive enterprise that hosts battalions of cable guys, trucks, coaxial cable, and e-wasting boxes. Verizon has so far shelled out at least $24 billion to offer FiOS (fast, but no Google Fiber) to certain pockets of the nation.
Does the king of high-margin, low-overhead search and advertising really want to get into the heavy-lifting, highly regulated world of being a nationwide broadband provider?
Some on Wall Street seem to think so. "Google Fiber is an attempt by Google to build a profitable, stand-alone business," Carlos Kirjner of Bernstein Research wrote in a Wednesday research report. "It may not make a huge difference for Google or for the incumbents in the next one, two or three years, but Google is taking the long view and we think in five or more years, it could turn out to be a significant, profitable business for Google and headwind for incumbents."
To hedge its cost commitments, Google is asking (coaching, even) municipalities for infrastructure blueprints and streamlined construction plans.
Jonathan Atkin, a telecom analyst with RBC Capital Markets, believes the media giant is talking big fiber chiefly to send a message, especially in the wake of Comcast announcing its intension to take out Time Warner Cable. "I think they just want to keep vendors, distributors, and regulators on their feet," he says, noting that the prospect of a content and distribution-heavy Google would make consolidating cable companies think twice about impinging on net neutrality.
"Everyone," says Atkin, "learned an expensive lesson from the telco bubble"—that nearly forgotten 1997-2003 bust that saw the likes of Global Crossing, Metromedia, and various fiber and DSL upstarts squander nearly $3 trillion in equity capital, much of which never resulted in functional networks. "Google," he concedes, "has the cash and balance sheet to do whatever it wants. But I doubt they want to spend the huge money it would take to truly dominate this world."