A Moscow MBA Program Fights to Keep Russia's Brightest at Home
by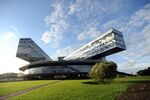 Russia isn't known for its friendly investment climate or deep bench of influential business professors, which is why many of the country's nascent corporate stars head to MBA programs in the U.S. and U.K.
Moscow School of Management Skolkovo wants to change that. The school will launch a redesigned MBA program this October that may entice Russian students applying to Oxford, Cambridge, Insead, Harvard, Stanford, and the University of Pennsylvania, among others, to stay closer to home.
"All of our applicants have very good proficiency in English and could be considered by international programs worldwide. They choose us because they want to have a positive impact on Russia and on our economy." says Valeria Pavlyukovskaya, the school's MBA program director.
Further incentives not to move abroad: Students can work full-time while enrolled in the new program, which meets in-person for four consecutive days each month and uses online classes to fill in the gaps. Each student is paired with a mentor who is considered a member of Russia's business elite, such as billionaire Roman Abramovich, Sberbank Chairman Ruben Vardanian, and Evraz Non-Executive Chairman Alexander Abramov.
One of the new program's biggest selling points, according to Pavlyukovskaya, is that it has no Russian teaching faculty. Since the USSR broke up, "there hasn't been enough time to raise a generation of great business academics," she says. All of Skolkovo's MBA courses will be taught by visiting professors from Duke, Insead, Cambridge, Stanford, IMD in Switzerland, and IESE Business School in Spain. Professor were chosen for their current ties to industry; all are either entrepreneurs or running successful international consulting practices.
The idea is that the professors will teach relevant skills that are immediately applicable to students' jobs. Small business owners and those going through the program without full-time jobs have the option of completing short-term work for companies such as Credit Suisse and MasterCard.
"The major aim is to make the whole experience much more practical," Pavlyukovskaya says.
The combination of Western expertise and Russian experience makes the program unique. "You have to be able to apply the knowledge you get abroad to the Russian reality," says Zoya Zaitseva, regional director for central Europe and central Asia for QS Quacquarelli Symonds, a London-based firm that studies MBA programs. "Skolkovo has found the right balance between what it teaches and how people use it."
Pavlyukovskaya previously led the school's popular EMBA program, which enrolls students aged 33 to 50, many of whom fly in on weekends to take classes.
"Traditionally, full-time MBA programs have never survived in Russia," Zaitseva says. "Russians start working quite early, while they're still in university, and by 24 or 26 they already have experienced titles and salaries comparable to North Americans at 32 or 35. They don't want to miss out on a year of income or industry experience."
What Skolkovo is proposing is an Executive MBA-like program for a full-time MBA audience. Students applying for the new MBA range in age from 24 to 30. About 60 percent are corporate managers and the rest are entrepreneurs.
The school recruits heavily among former USSR lands. Half its students typically come from Russia and 10 percent each from Kazakhstan, Ukraine, Belarus, Armenia, and others. Nearly all are looking to do business in Russia.
The program faces challenges. A major one: its name. Zaitseva says the school was founded in 2006 and adopted the moniker from the rural location of Skolkovo. In 2010, the Russian government announced the foundation of the Skolkovo Innovation Center, a business development area dubbed Russia's Silicon Valley. Zaitseva says investors' low trust in the Russian government may hurt perceptions of the privately-funded Skolkovo business school as it looks to expand.
Russia ranked 92nd of 189 countries in a 2013 World Bank study of the biggest emerging economies implementing better business practices. That position was up from the previous year's spot at 112.
A bright spot for Skolkovo is a growing tendency by international business school applicants to favor schools closer to their homes. U.S. business schools received 47 percent of GMAT test scores from Russians in 2012,down from 63 percent in 2008 (PDF).
Under its new MBA structure, Skolkovo is primarily targeting students who want to work in Russia, Zaitseva says. The country has several "high profile, highly-mobile English-speakers who are interested in a career change," she says, who "for whatever reason choose not to study outside of Russia. This is perfect for them."
Before it's here, it's on the Bloomberg Terminal.
LEARN MORE