Walker E-Mails Make Christie Look Bad, Not Walker
The e-mail dump from Wisconsin looks strangely unsettling in New Jersey.
by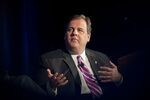 Wisconsin Governor Scott Walker is getting the Chris Christie treatment this week. He doesn't deserve it. Although Walker's case does show why his Republican gubernatorial counterpart in New Jersey deserves all the skepticism he's generated and more.