North Face Introduces Workout Gear to Shake Its Wintry Image
By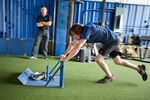 Feeling secure in its winter bounty, North Face is making a big push into spring and summer gear—a strategic shift that will increasingly put it toe-to-toe with Nike, Adidas, and the rest of the world's biggest sportswear brands.
Parkas and tents are all fine and good, but the mass market is in warm-up pants. Next week, North Face will begin selling a line of lightweight apparel called Mountain Athletics, for training in warming temperatures. The offering will include only 16 styles, but the new line will anchor the biggest marketing campaign the company has ever produced in the first half of a year, according to North Face President Todd Spaletto. "There's so many people wearing our brand, and they've had a positive experience with it," he says. "But they're looking for us to outfit them the rest of the year."
North Face, a unit of VF Corp., is deliberately avoiding yoga tops and running shorts. The folks designing its new gear were thinking about people climbing ropes, dragging sleds full of rocks, and swinging around sandbags. The company got the idea from Mountain Athlete, a gym in Jackson Hole, Wyo., where many of its sponsored skiers and climbers tune up during off days. The place is light on weights and leg-warmers. Most of its regimen comprises odd and brutal exercises: "alligator push-ups, "Tarzan pull-ups," the "headstand crunch," and something called the "chair of death," which presumably isn't cozy.
"It just hit home immediately: This is our brand and our market," Spaletto says of the partnership. "It's not about looking good in front of a mirror, and it's not about maxing out on a bench press." In terms of design, North Face put an emphasis on durability, versatility, and range of motion. The new line is, on a whole, a bit looser than a lot of workout clothes and peppered with abrasion-resistant panels. "I don't think that there's anybody doing this right now," Spaletto says. "We really see it as a white-space opportunity."
That may be true, but cross-training has been old news at least since Rocky IV hit theaters in 1985 (see Cold War-era log-splitting and rock-lifting). Still, organic exercise is having a bit of a moment right now, if the popularity of obstacle-course racing is any indicator. Whether North Face has a better chance of winning that game than, say, Nike remains to be seen.
At least the goal is clear: bolster sales over the first six months of the year, a period that now accounts for only one-third of North Face's revenue. And if the brand wants to hit its target of growing from roughly $2 billion in annual sales to $3.3 billion by 2017, it's going to need to play in all seasons and sports—even rock-hauling.
Before it's here, it's on the Bloomberg Terminal.
LEARN MORE