McLaren Set to Add Pricier Sibling to $240,000 12C Supercar
Nick Gentle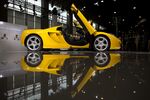 McLaren Automotive Ltd., the carmaker famed for its Formula One racing arm, is close to introducing its fourth supercar as the company seeks to vie against Fiat SpA's Ferrari and Volkswagen AG's Lamborghini.
The 650s, which will debut at the Geneva motor show next month, will have more power, accelerate faster and be priced "a sensible distance" above the MP4-12C, Operations Director Alan Foster said in an interview in Hong Kong yesterday. McLaren is holding private viewings before Geneva and deliveries will begin next month, Asia Pacific Regional Director Mirko Bordiga said.
The 650s is part of Chief Executive Officer Mike Flewitt's plans to introduce a new McLaren every year as the company seeks to triple sales in two to three years. The maker of the million-dollar P1 is also developing cheaper vehicles that could compete against cars from Volkswagen's Porsche.
"It's somewhat surprising they are slotting a car above the MP4-12C before introducing something a little more obtainable," said Kevin Tynan, an auto analyst for Bloomberg Industries. "There is enough brand cache for a well-executed McLaren to compete with R8 and GT3."
The company will probably introduce a model to compete in the segment that includes the Audi R8 or the Porsche GTR within a couple of years, Foster said. McLaren is interested in making a more general-purpose vehicle based around a mid-engined sports car, he said.
Cheaper Car
"The idea is that we'll bring a new car into position every 12 months," said Foster. "There's a number of degrees of segmentation until you get down to about 100,000 pounds sterling ($167,000). We're not in there yet, but it's certainly one that's of interest to us."
The supercar maker expects to sell about 1,500 vehicles this year, similar to 2013, and plans for deliveries to reach 4,500 spread across a range of models in two to three years, Foster said. By comparison, Ferrari sold 6,922 vehicles and Lamborghini deliveries reached 2,121 in 2013.
Woking, U.K.-based McLaren began selling cars for retail buyers in 2011, starting with the MP4-12C road car, which Kelley Blue Book estimates to sell for about $240,000 and above, followed by the convertible MP4-12C spider and its top-of-the line P1. Bahraini sovereign wealth fund Mumtalakat Holding Co. is McLaren's biggest investor and other shareholders include Singaporean billionaire Peter Lim.
Slowing China
McLaren established its first dealerships in mainland China, the world's largest car market, last year and sees the country growing to represent about 10 percent of global sales, Bordiga said. The company made its entry amid a government campaign against corruption and extravagance that's undermined demand for high-end products.
Luxury spending in the nation last year rose at the slowest pace since at least 2000, according to Bain & Co., as demand for items from Swiss watches to expensive liquor slumped. Companies from Prada SpA and Cie. Financiere Richemont to Australia's Treasury Wine Estates Ltd. have reported slowing sales growth.
"It's understandable what the government did in terms of controlling what officials do or spend or receive -- it has to be done," said Bordiga. "The effect of the government curbs on extravagance is real, but we're not seeing it probably because we are lucky to be the last entrant and we're not really going for volumes."
Sales of ultra-luxury brands were mixed in China last year, with Lamborghini, Bentley and Ferrari reporting fewer deliveries than in 2012, while Porsche, Maserati, Bayerische Motoren Werke AG's Rolls-Royce and British sports car maker Aston Martin saw expansion.
Economists surveyed by Bloomberg project China's economic growth will slow to 7.4 percent this year and 7.2 percent in 2015.
An expanding economy means opportunities will still exist for McLaren, Bordiga said.
"There's always rich people getting richer, new people getting rich and each one of them wants to enjoy life," he said.
Before it's here, it's on the Bloomberg Terminal.
LEARN MORE