Haas School of Business Has an 'Unconventional' Plan to Attract Students
By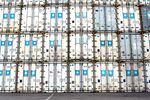 Case studies are big business for Harvard Business School, which sold more than 11 million cases last year, according to its annual report (PDF), published earlier this month. That helped the school's publishing arm, Harvard Business Publishing, reach $180 million in revenue.
Those kinds of numbers are beyond the realm of possibility for the University of California, Berkeley's Haas School of Business, which launched a case series last month. The series, created in partnership with Harvard Business Publishing, will net the business school less than $1 million this year, says Dean Richard Lyons.
For Haas, the launch isn't about the bottom line. "It helps build an identity around some of the areas we're really good in," Lyons says. Haas says its cases will extract "lessons for success from unconventional management strategies and disruptive trends," according to a press release. That includes cases on Netflix, Genentech, and the online dating site Zoosk.
The study that I read, about a decision by Maersk Group to launch a social media campaign, didn't quite seem unconventional. What it did seem is atypically successful. The ocean shipping giant started with a budget of less than $100,000 and built a Facebook following of more than 1 million fans.
But whether the businesses in the case studies truly buck convention doesn't matter as much as how well they link the school to the company culture in California's Bay Area. As technological advances continue to reshape industries, a school that's identified with Silicon Valley is appealing to prospective students, says Lyons.
Marketing Haas as a school that knows how to apply the experiences of successful tech companies across the business landscape probably doesn't meet the standard of unconventional, either. But if the series helps the school win a future war for talented MBAs, it may someday make for an interesting case study of its own.
Before it's here, it's on the Bloomberg Terminal.
LEARN MORE