pursuits
Rise of the Gaymers
Turns out not everyone who likes to play video games is straight, and the $5 billion industry is starting to take notice
Kurt Soller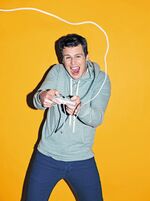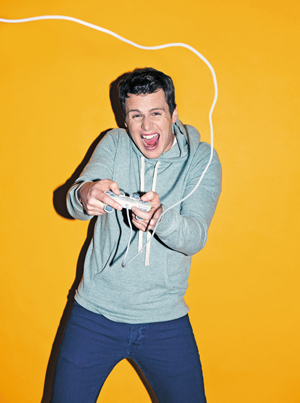 In Looking, a new HBO comedy about gay men in San Francisco, a handsome, single nerd named Patrick goes on dates with a series of thirtysomething professionals. During one particularly awkward dinner with a doctor, Patrick explains what he does for a living and is met with a sneer. "Isn't that just a bunch of kids playing air hockey and going down slides?" the doctor asks. "How old are you?"
Patrick is a video game designer for a fictional tech company. He spends long hours creating products like Naval Destroyer (which he refers to jokingly as Anal Destroyer when his mostly straight co-workers aren't around). He's part of what, in the real world, is an often-mocked, but hugely profitable $5 billion industry in the U.S., at least when Economists Inc. last measured it in 2009. The field employs 32,000 people, according to the Entertainment Software Association, and midlevel workers such as Patrick can make a decent living of more than $100,000 a year, plus bonuses when their projects ship.
The bulk of this work occurs in the Bay Area, one of the gayest places in America, and there's no shortage of LGBTers working in technology. Yet Looking, which premièred on Jan. 19 and has averaged about 400,000 viewers weekly, according to Nielsen, marks the first time guys such as Patrick have been portrayed in a TV series. "In our culture, oftentimes we view being gay as one very specific thing," Jonathan Groff, the gay actor who plays Patrick, says of Hollywood's tendency to stereotype guys as fashion mavens or one-liner-spouting sidekicks. Groff did the appropriate Silicon Valley research to get into character: "There's a real community of gay gamers that connect and have parties and hang out with each other."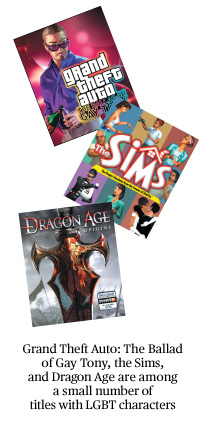 It's fitting that this group of gay gamers—or gaymers, as some call themselves—first coalesced behind the comforting remove of a computer screen. The website gaygamer.net was marginally popular when it launched in 2006; many of its ardent fans have since migrated to forums on reddit.com, where obsessives of all stripes can form subreddits, or digital communities, around virtually anything. On one called r/gaymers, about 32,000 subscribers offer device recommendations, share baked-in codes that make attractive characters go shirtless, and recruit teammates to play new MMORPGs—massively multiplayer online role-playing games—such as World of Warcraft or the Final Fantasy series.
"Gay geeks have been fighting for their own space," says Matt Conn, 26, an independent game publisher, who points out that game plotlines are overwhelmingly heterosexual, and players online have a locker room habit of ribbing each other with homophobic epithets. "They want to express their fandom and their geekdom and say this character is hot without a bunch of people calling them f—– or making them feel like crap." When the website Gamers Against Bigotry was founded in 2012, it was quickly hacked and defaced with similar insults. In 2006 a University of Illinois at Urbana-Champaign study of 10,000 gamers concluded that "mainstream gay culture and media is not supportive of video games. Then you have the video game culture that is not supportive of gay culture. So you have these people stuck in the middle who have this double-edged prejudice."
Conn joined Reddit in 2011 and realized there were "tens of thousands of people" like him who "shouldn't feel like they're alone." He formed a Facebook group called SF Gaymers, through which he planned public meetups in San Francisco's Dolores Park, where a few hundred acquaintances would get together and discuss their preferred video games while playing analog board games. Soon he realized that, like Comic Con or South by Southwest, what the gaymers were looking for was their own gathering.
In the summer of 2012, Conn created a page on the crowdfunding website Kickstarter for the first GaymerX, a two-day assembly in San Francisco that would, as the project brief explained, "show the true spectrum of gamers that exist." The goal was to raise $25,000, but 1,500 allies contributed more than $91,000 over the course of one month. The event, which took place last August, became the first convention to be funded by Kickstarter. It sold out, raising more than $175,000 in ticket sales from 2,300 gaymers who traveled from as far as Australia to attend the festivities. One attendee even planned a surprise proposal for his boyfriend in front of the entire audience. They exchanged rings inspired by Portal, a first-person puzzle game they play together.
Microsoft's Xbox and Electronic Arts, among other major publishers, hyped the event by creating online videos touting the Kickstarter donation page and sending their employees to man tables and host panels. Andre Chambers, EA's global director of talent acquisition, diversity, and inclusion, says his company and competitors get involved in GaymerX, Lesbians Who Tech, and gay pride parades in various cities because they want their employees, real people who resemble Looking's Patrick, to feel comfortable so they can contribute better ideas to games. "This is a relatively new space, and we want to ensure [gay gamers] are getting more visibility and make [our own recruitment] investment," Chambers says. Conn remains skeptical. "On principle, they support equality," he says. "But they've created a culture of straight white males where women, people of color, or [gays] think the industry isn't really made for them." To change that, he's also building his own indie game, funded by Kickstarter, where players can interact with characters who are gay, straight, male, female, or free of any such labels.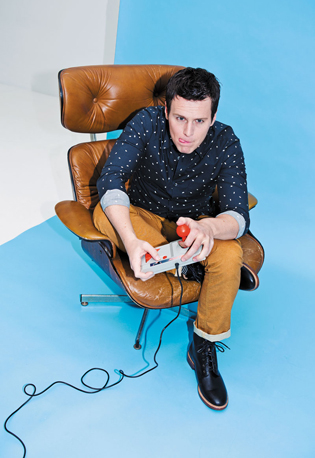 Job and networking opportunities are useful, but what most gaymers want is to see their lives reflected in the games they play. In the early days of Mario and Luigi—who, to set the record straight, never dated—a few 16-bit cartridges featured gay characters as minor scoundrels and villains, people to be destroyed. In 1996 a Maxis developer working on the game SimCopter was fired for inserting a hidden "Easter egg"—a deliberately secret feature—that included two men kissing.
Four years later, the Sims, another game by Maxis that involved guiding characters through suburban-inspired interpersonal encounters, was heralded as the first game to treat gay life as just another aspect of contemporary culture. A gay developer added the option of same-gender romance, and no one on his team complained about it. Nor did most customers. So there it stayed.
"The gay population [working in game] development is growing," says Wynn Rankin, who worked as a writing consultant on Looking to make sure Patrick's office jargon rang true. But without a glut of LGBT employees fighting for it, same-sex romance in games remains rare even as gay marriage becomes legal. (To be fair, only the most cinematic of video games require characters to display any sexuality at all.) There has been some marginal progress, including a 2009 add-on in Rockstar Games' Grand Theft Auto
"I've never seen anything like that in a game before," says Jason Brown, an EA designer for the iPhone game Plants vs. Zombies 2. "It was a call-my-friends moment, but I don't think they were as supercrazy impressed as I was." Like most gaymers, Brown finds that form of entertainment more meaningful than the glossy HBO version of his life presented in Looking. Still, he's pleased there's a gaymer on television as well as a dedicated convention, which he regrets missing last summer. He's planning to attend the next one, scheduled for July. "Any time I can be in the company of gay nerds, I'm pretty happy."
Before it's here, it's on the Bloomberg Terminal.
LEARN MORE