Crocs Pays Big to Trash Its Unsold Clogs
By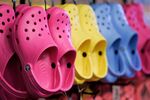 Crocs, in the midst of a corporate retread, is struggling to get out from under a pile of garish resin clogs.
Business for the tarnished shoe brand actually isn't as bad as one might expect. The company has built a long line of styles that are a big step away from the chunky, hole-punched hooves that made it a household name. This spring, for example, Crocs is putting a hard sell on men's golf shoes and women's wedges and espadrillas. That product expansion is no doubt why Blackstone Group agreed to buy a $200 million stake in the company in December.
But as anyone with a bit of bright Mario Batali orange at the bottom of his closet knows, old Crocs are tough to get rid of. In the fourth quarter, Crocs wrote down $10.7 million in impairment charges, effectively canceling out 5 percent of its sales. Most of the one-time expenses were tied to its network of 619 retail stores, although Crocs had to take a $3.4 million hit for "obsolete inventory"—the financial equivalent of tossing a bunch of shoes in the trash.
In part because of that housecleaning, Crocs posted a $66.9 million loss in the quarter, well above its $3.6 million loss a year earlier.
Believe it or not, the company is still selling tons of shoes: 10.7 million in the three months ended Dec. 31, which is 9 percent more than in the year-earlier period. That's almost one pair of Crocs for every person in Ohio, and only about half of those were clogs. In particular, the company made big strides abroad, more than doubling the pairs of shoes sold in Europe and posting a 22 percent increase in Japan. Total revenue, however, ticked up just 1.6 percent to $228.7 million, a sign that Crocs, on the whole, are getting a bit cheaper.
The challenge for Crocs remains wooing the U.S. customers who put it on the map a decade ago and have since moved on to Toms, Rainbow flip-flops, and increasingly Birkenstocks. In America, Crocs sold 8 percent fewer shoes in the recent quarter.
Meanwhile, the company said it won't be providing profit guidance this year or answering questions during earnings reports. On Wall Street, that kind of coyness is considered about as fashionable as chunky clogs.