pursuits
Cocktail Recipes as Spring Nears: How to Make Them
Evan S. Benn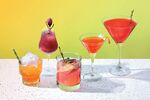 Battle Cat
By Matty Eggleston of Nico Osteria in Chicago
1 ¾ oz. Old Forester bourbon
½ oz. Pedro Ximénez sherry
¼ oz. Branca Menta*
Combine ingredients in a rocks glass. Add crushed ice and stir quickly. Top with more crushed ice, and garnish with a mint sprig. Serve with a straw.
*The minty cousin of Fernet-Branca, an Italian liqueur distilled from 40 herbs. Also great to sip on its own.
Violetta Valéry
By Eben Freeman of Ai Fiori in New York
¾ oz. Banks 5 Island rum
¾ oz. Cocchi Americano*
¾ oz. fresh lime juice
½ oz. Crème Yvette**
¼ oz. agave syrup
Combine ingredients in a shaker and add ice. Shake and strain into a whiskey tulip glass. Add a single ice cube and, if you happen to have one lying around, garnish with an edible flower.
*An aperitif that's part bitter herbs and orange peel, part sweet Moscato. Good with seltzer.
**A French liqueur flavored with violet petals, blackberries, raspberries, and more. Try it over vanilla ice cream.
Full Seed Ahead
By Matthew Biancaniello of Pot Bar in Los Angeles
½ oz. wild bay leaf-infused
alfalfa honey
2 oz. wild mustard-infused Cap Rock gin
¾ oz. fresh lemon juice
½ oz. Calisaya liqueur*
1 medium-size kiwi, peeled
Handful of wild horehound leaves**, cut into chiffonade
Infuse honey by adding 5 bay leaves to 3 cups honey and 1 cup water. Bring to a boil. Let cool. Infuse gin by adding 8 mustard leaves to bottle of gin. Let sit for a week. Muddle the honey, lemon juice, Calisaya, and kiwi in a cocktail shaker. Add gin, then shake. Strain into a rocks glass with one large ice cube. Layer horehound leaves around glass.
*Oranges, bark, and roots form the base of this bitter upgrade to Italian amaro. Nice after dinner.
**Wild horehound leaves, which you can buy on Amazon, taste of licorice, sorrel, and root beer. Steep them to make tea.
Papa Don't Preach
By Jamie Kilgore of Planter's House in St. Louis
2 oz. El Dorado 5 Year Old Rum
½ oz. Cherry Heering*
½ oz. Aperol**
½ oz. fresh lime juice
2 dashes Scrappy's Grapefruit Bitters
1 oz. brut Champagne
Combine everything but Champagne in a cocktail shaker with ice. Shake vigorously and strain into a chilled cocktail glass. Top with Champagne and garnish with a grapefruit twist.
*A potent, cask-aged spirit distilled from Danish cherries and spices that adds a fresh-fruit sweetness to cocktails. Best with gin.
**The lighter, less-alcoholic sibling of Campari. Makes for a smoother Negroni.
Beet Me in St. Louis
By Chad Phillips of the Social Club in Miami
¼ oz. absinthe
1 ½ oz. Beefeater gin
¾ oz. cold-pressed beet juice
½ oz. fresh lemon juice
½ oz. Domaine de Canton*
½ oz. honey
Swirl absinthe around a martini glass. Combine remaining ingredients in a cocktail shaker with ice. Shake and strain into the glass.
*This once hard-to-find Chinese product is now made from crystallized ginger in France. Upgrades a Dark 'n' Stormy well.
Before it's here, it's on the Bloomberg Terminal.
LEARN MORE