Busted State Obamacare Websites Haven't Caught Up to Healthcare.gov
By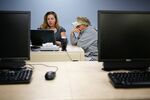 Last fall, when healthcare.gov was all but useless for two months, a handful of states that decided to build their own Obamacare enrollment websites grappled with their own problems. Home-grown exchanges in such places as Kentucky and California worked relatively smoothly, but in other states, including Oregon and Maryland, the insurance portals looked as bad as healthcare.gov, or worse.
The federal site has been in better shape since its Dec. 1 reboot. The same can't be said for some of the states trying to repair their own malfunctioning sites. Cover Oregon has resorted to an analog solution, taking applications offline with paper applications. (A beta site that brokers can use opened Feb. 18 to mixed reviews.) The exchanges in Maryland and in Massachusetts—the state that was the model for the Affordable Care Act's reform—have also been plagued with problems.
Congressional Republicans are calling for probes of the failures in these three blue states, which together were awarded more than $500 million since 2010 to establish new insurance marketplaces, according to grant data from the Center for Consumer Information and Insurance Oversight, the federal agency in charge of the portals. More than half of that went to Oregon, which in turn spent $40 million to hire contractor Oracle.
In the aggregate, the 14 states (plus the District of Columbia) that built their own exchanges are doing better than the federal marketplaces, according to recent estimates by consulting firm Avalere Health. The company gauged the latest public enrollment figures through the end of January against Avalere's projection for each state exchange's total sign-ups for 2014.
State-run marketplaces are 72 percent of the way to their target, compared with 48 percent for the federal site, according to Avalere's data. But almost all that difference comes from California, the largest state and, by Avalere's measures, the most successful. The Covered California exchange enrolled 728,000 by the end of January, which already exceeds Avalere's projections. Take the Golden State out of the mix, and the other 15 state exchanges are about where healthcare.gov is: halfway to the target.
Despite its website woes, Oregon has also reached roughly half of Avalere's projected enrollment. Massachusetts is the laggard, with a little more than 8,000 newly insured through its exchange, 17 percent of Avalere's projection. Maryland, at 38 percent, lands somewhere in the middle. Besides California, a couple of states that enthusiastically embraced Obamacare, including Colorado and Washington state, have robust enrollment in their insurance portals to show for it.
Nationally, 3.3 million people have enrolled through both state and federal exchanges. That's more than half of the 6 million the Congressional Budget Office now expects to buy plans this year. It doesn't count millions more covered under expanded Medicaid programs and an untold number buying insurance who didn't go through the exchanges.
Taken together, that's more enrollees than forecasters might have guessed a few months ago, back when Kathleen Sebelius and the crash-prone healthcare.gov were mocked on Saturday Night Live. But if healthcare.gov has turned a corner, state websites—especially in Boston, Salem, and Annapolis—still have a way to go.
Before it's here, it's on the Bloomberg Terminal.
LEARN MORE