U.S. Stocks Slump as Treasuries Gain Amid Stimulus Bets
Nick Taborek and Jeff Sutherland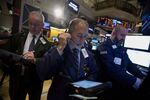 U.S. stocks fell, erasing an early gain, and Treasuries rose on speculation the Federal Reserve is unlikely to slow the pace of stimulus cuts. European bonds rallied as Ukraine reached an agreement on early elections.
The S&P 500 fell 0.2 percent at 4 p.m. in New York, after climbing to within three points of its record close. Treasury yields dropped two basis points to 2.73 percent. The MSCI All-Country World Index added 0.3 percent, almost 0.5 percent away from a six-year high reached Dec. 31. Ukraine's April 2023 dollar bond climbed the most since Russia pledged a bailout two months ago. The dollar capped its biggest weekly gain of the year against the yen. Gold advanced while oil retreated.
Dallas Fed President Richard Fisher said it's hard to argue that further expansion of central bank balance sheet has had "much efficacy." Group of 20 finance chiefs meeting in Sydney this weekend will back the withdrawal of stimulus in advanced economies and commit to "concrete actions" to boost growth, according to a draft communique seen by Bloomberg. Ukrainian opposition leaders joined President Viktor Yanukovych in signing a peace accord to halt a deadly three-month political crisis.
"The fear might be that they begin to taper too quickly," Eric Teal, who helps oversee about $4 billion as the chief investment officer at First Citizens BancShares Inc. in Raleigh, North Carolina, said by phone. "The fact that central banks have really agreed to keep policy stimulative should give investors a little bit of reassurance that they're not going to undo the recovery that's taken place."
Fed Stimulus
Fisher, an opponent of added stimulus who votes on policy this year, said he'll remain a strong advocate of tapering the purchase of bond buying. "We at the Fed are providing more than enough monetary accommodation," he said in a speech today.
St. Louis Fed President James Bullard, who doesn't vote on the Federal Open Market Committee this year, said the central bank is on target to continue scaling back stimulus.
Data today showed sales of previously owned U.S. homes dropped in January to the lowest level in more than a year as harsh winter weather combined with a lack of supply, tight credit and declining affordability slowed demand.
Investors have dismissed worse-than-forecast U.S. economic data over the past two weeks, arguing that weather explains the weakness in reports from housing to hiring. The Bloomberg ECO U.S. Surprise Index, which measures how much recent data has beaten or missed economists' estimates, fell to minus 0.429 today, the lowest since August 2011.
Yellen Guidance
Fed Chair Janet Yellen last week said the economy has strengthened enough to withstand continued cuts to monetary stimulus, adding that only a notable change in the outlook for the economy would prompt the central bank to slow the pace of tapering. Three rounds of stimulus have helped push the S&P 500 as much as 173 percent higher from a 12-year low in 2009.
The yield on 10-year Treasuries fell two basis points to 2.73 percent, declining from the highest level in a week. Treasuries returned 1.5 percent this year through yesterday, according to Bloomberg World Bond Indexes.
The S&P 500 retreated 0.1 percent for the week. The index climbed to within six points of the record on each day during the week, without breaking through to a new high. The S&P 500 slumped as much as 5.8 percent after reaching a record on Jan. 15 as investor concern about the Fed's reductions in stimulus fueled a rout in emerging markets. The benchmark gauge has rebounded 5.4 percent since.
Groupon Inc. slumped 22 percent today after the daily deals website gave a profit forecast that trailed estimates. Priceline.com Inc. and Intuit Inc. gained at least 2.5 percent on better-than-estimated results.
Europe Stocks
The Stoxx Europe 600 Index advanced 0.4 percent, up 5.8 percent from its low on Feb. 4. The benchmark gauge ended the week with a 0.8 percent gain, the third consecutive weekly increase. Trading volumes were 11 percent less than the 30-day average, according to data compiled by Bloomberg.
Valeo SA jumped 13 percent after the French auto-parts maker posted six-month earnings that beat analyst estimates. Vodafone Group Plc climbed 3 percent as the wireless carrier was set to complete its biggest sale of the past decade today, leaving it about half the size it was. Elekta AB slumped 9.9 percent after the maker of radiation-surgery equipment cut its sales and profit forecasts.
The MSCI Emerging Markets Index added 0.9 percent, erasing this week's decline to climb 0.2 percent. Samsung Electronics Co., which will unveil a high-end Galaxy phone next week, drove a gauge of technology stocks to a record high, rallying 3.4 percent.
Peace Accord
The yield on Ukraine's 2023 bond fell 81 basis points to 10 percent, the biggest decline since Russia pledged a $15 billion bailout on Dec. 17. The benchmark equity gauge jumped 3.2 percent, erasing earlier losses. The index jumped 3.9 percent yesterday.
Ukrainian protesters agreed to a peace accord with President Yanukovych. The pact, brokered in all-night talks in Kiev with three European Union foreign ministers, envisages snap presidential elections by December and a national unity government within 10 days. Lawmakers backed a return to the 2004 constitution, a step that would curb Yanukovych's powers in favor of parliament.
The country is at risk of default after a political crisis "deteriorated substantially," S&P said, downgrading Ukraine's debt to CCC, eight levels below investment grade, and keeping a negative outlook.
Italian Politics
Spain's 10-year bond yield fell five basis points to 3.55 percent. The yield on 10-year Italian debt declined five points to 3.60 percent. Matteo Renzi accepted the mandate to become Italian prime minister a week after toppling Enrico Letta's government in an intra-party dispute. Renzi named a 16-member cabinet, with the finance ministry going to Pier Carlo Padoan, chief economist of the Organization for Economic Cooperation and Development.
Germany's 10-year bund yield dropped three basis point to 1.66 percent.
The dollar rose 0.3 percent to 102.56 yen, gaining 0.8 percent for the week, the biggest advance since the period through Dec. 27. The U.S. currency weakened 0.2 percent to $1.3740 per euro.
Canada's dollar fell against 12 of its 16 major peers after reports showed retail sales dropped more than forecast in December while inflation accelerated last month. The loonie weakened 0.3 percent to C$1.1128 per dollar after dropping 1.4 percent in the previous two days.
Gold, Oil
Gold advanced 0.5 percent, rising for the first time in three days as slumping U.S. home sales revived concern that the economy is weaker than forecast, spurring demand for the metal as a haven asset.
West Texas Intermediate crude declined 0.6 percent, paring a sixth consecutive weekly gain, on speculation prices have climbed more than justified as heating season approaches its end. Crude gained 1.9 percent this week and 10 percent in the past six weeks.
Natural gas rallied 1.2 percent, capping a second weekly gain amid forecasts for an arctic blast that would deplete inventories of the heating fuel, already at the lowest in a decade. MDA Weather Services said temperatures may be lower than normal in the eastern two-thirds of the U.S. from Feb. 26 through March 7.
Gas has climbed 45 percent in 2014, the second-biggest gainer, after coffee, in the S&P GSCI index of 24 commodities.
Before it's here, it's on the Bloomberg Terminal.
LEARN MORE