Air France-KLM Says Turnaround Plan Taking Hold in Costs
undefined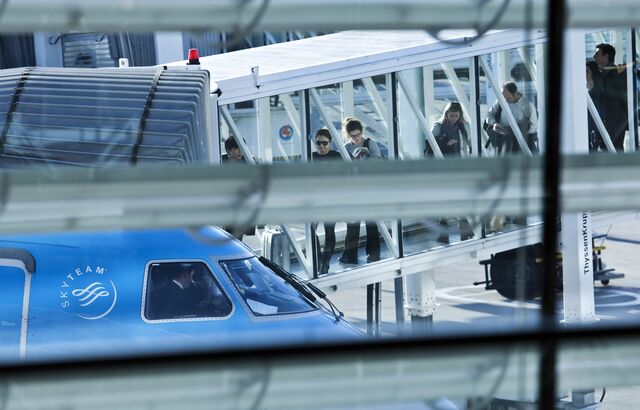 Air France-KLM Group said an earnings recovery driven by cost cuts under new Chief Executive Officer Alexandre de Juniac is picking up speed and reiterated a plan to increase profit this year and further reduce debt.
Earnings before interest, tax, depreciation and amortization last year rose 34 percent to 1.86 billion euros ($2.56 billion) from 1.39 billion euros while revenue was little changed at about 25.52 billion euros, the Paris-based airline, Europe's biggest, said today. The net loss widened to 1.83 billion euros on costs tied to a disposal and the depreciation of losses carried on the balance sheet.
"Air France-KLM Group is undergoing a profound transformation, and I am confident we will return to the path of profitable growth in 2014 and beyond," de Juniac, who took over in the middle of last year, said in a release.
Air France-KLM predicted Ebitda of about 2.5 billion euros this year, while cautioning that the operating environment remains "uncertain" amid volatile currencies and fuel prices and an uneven pick-up in demand across different regions. Fuel remains the second-highest expense at the company behind personnel costs, and de Juniac has implemented a cost-cutting program that includes the elimination of thousands of jobs.
Back to Profit
The stock dropped as much as 33 cents, or 3.6 percent, to 8.75 euros, and traded at 8.79 euros as of 11:19 a.m. in Paris. Air France has gained 16 percent this year, compared with an 18 percent increase for No. 2 European carrier Deutsche Lufthansa AG.
The company has cut 7,500 positions since 2011, with almost half that amount last year alone. By 2015, Air France-KLM will have eliminated almost 10,000 jobs, he said, as the carrier joins European competitors Lufthansa AG and International Consolidated Airlines SA in scaling back.
Air-France KLM returned the passenger business to a profit of 174 million euros last year, versus a loss of 260 million euros in 2012. Business at the cargo operation contracted, with revenue down 7.9 percent at 2.82 billion euros and an operating loss of 202 million euros, even as the company cut freighter capacity 11.5 percent, almost twice as much as planned at the beginning of 2013.
Capital Requirements
Net debt at the end of last year fell to 5.3 billion euros, lower than initially planned, and cash stood at 4.2 billion euros. The board proposed not to pay a dividend for last year, after also omitting a payout in previous years. De Juniac predicted debt will fall to about 4.5 billion euros "towards" 2015.
The airline doesn't plan a capital increase, the CEO said, as the ratio of earnings to debt is improving and cash holdings, including 1.8 billion euros in free credit lines, are sufficient.
"Because the economic outlook in the euro zone is slightly better, and the recession is probably behind us, we expect that the economic environment will be more pushy, more bullish," the CEO said in an interview.
Air France-KLM said it will deepen cooperation with Brazil's Gol Linhas Aereas Inteligentes SA with an investment of about $100 million that gives the French airline a stake of about 1.5 percent in the preferred stock of Gol.
De Juniac said Gol had asked Air France buy the stake as a condition for the partnership, as Skyteam partner Delta Air Lines Inc. also owns a holding in Gol. Air France doesn't generally look holdings in carriers with which it has links and said an exchange in with partner Etihad isn't planned.
Air France is, however, seeking to "deepen" its collaboration with Etihad, possibly beyond code-sharing to revenue sharing, De Juniac said.
Before it's here, it's on the Bloomberg Terminal.
LEARN MORE