Ukraine Splits Prompt Civil War Warning as Violence Spreads
Aliaksandr Kudrytski and Henry Meyer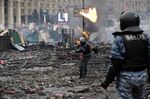 Within hours of the call for reinforcements, they started arriving.
Opponents of Russian-backed Ukrainian President Viktor Yanukovych from western regions flooded into Kiev, dozens of minibuses and cars discharging activists with bulky backpacks near the scene of the latest protests. At least one was armed with a hunting rifle.
"We just came from Lviv," a city about 540 kilometers (325 miles) from the capital on the border with Poland, said one of them, Volodymyr, who declined to provide any other information about himself. Asked what his plans were, he replied: "We will break Yanukovych's spine."
The death toll in the capital has reached at least 35 in the past three days, including more than seven today as a truce between government forces and protesters collapsed.
As the divisions within Ukraine become more indelible, regions are mobilizing like never before. The crisis prompted warnings from politicians including Polish Prime Minister Donald Tusk that further violence might escalate into the first civil war in Europe since the breakup of Yugoslavia.
Ukraine's security service said yesterday it started a nationwide "anti-terrorist operation" that gives the army the right to search, detain, even fire on civilians. It cited protesters seizing guns and ammunition in raids on military bases, depots and government buildings, including a seized cache in the western city of Ivano-Frankivsk. More than 1,500 guns and 100,000 rounds of ammunition were taken, it said.
Separatist Threat
"There is the possibility this could spin out of control into a confrontation amongst Ukrainians," said Joerg Forbrig, senior program officer for central and eastern Europe at the Berlin bureau of the German Marshall Fund of the U.S. "This could add another conflict in Europe."
While the government and opposition agreed on a truce and further talks to stop the bloodshed, clashes and gunfire broke out again today. Months of conflict between the leadership and those who favor integration with Europe have deepened a chasm in the former Soviet nation of 45 million people.
Yanukovych's chief of staff, Andriy Klyuyev, warned the European Union against enflaming the situation by imposing sanctions because "there is a threat that the country will split in two," according to the Unian news service.
Crimean Call
The turmoil is also roiling markets in Ukraine, a key transit route for Russian gas. The yield on the government's $1 billion of bonds maturing in June fell as much as 9 percentage points to 32.5 percent after hitting a record high yesterday. Shares of OAO Gazprom, which relies on Ukraine as a key transit route for European natural gas shipments, reversed losses to gain 0.3 percent by 5:46 p.m. in Moscow after falling 3.6 percent yesterday in the biggest drop since June.
In the Black Sea region of Crimea, part of Russia until 1954, there are calls for the government in Moscow to intervene, while some in the Russian-speaking eastern industrial heartland are seeking more autonomy. Should Yanukovych be forced from power, Russia may encourage Ukrainian regions loyal to it to secede, according to Forbrig.
Georgia fought a war with Russia in 2008 in a failed bid to bring a Russian-backed breakaway region under control, and Moldova has a pro-Russian secessionist region, Transnistria. President Vladimir Putin's spokesman Dmitry Peskov yesterday declined to comment on such a possibility in Ukraine.
Lviv Expulsion
The west of Ukraine, where the pipelines carrying Russian gas feed into the European network through the Polish, Slovak and Hungarian borders, has been increasingly slipping out of Yanukovych's grasp. The regions have been restless since protesters last month occupied several regional administration headquarters and evicted the Kiev-appointed governors.
Lawmakers in the region of Lviv went further yesterday by assuming all power from Yanukovych's government after they expelled Governor Oleh Salo, a former senior police officer.
Protesters also seized the headquarters of the security services in Lviv, a region of 2.5 million people, as well as the main police departments in Ternopil, Khmelnytsky, Lutsk and Ivano-Frankivsk in western Ukraine, and the regional governor's office in Zhytomyr, in the central part of the country.
'Worse Than Syria'
Trains going from Lviv and other western cities to Kiev are stopped because of maintenance issues, the press office of Ukrzaliznytsia, the state railway company, said on its website.
The opposition-held Lviv regional parliament yesterday said it had reached an agreement to secure order in the region in a joint statement on its website signed by the legislature and the local branches of the police, security service and Interior Ministry troops.
"The split of such a country as Ukraine won't happen without major consequences, not for Russia, not for the EU," said Yuriy Pidlisnyi, an academic and deputy head of the Batkivshchyna, or Fatherland party faction in the Lviv regional parliament. "No one has an interest in such destabilization. It will be worse than Syria, worse than Yugoslavia."
The country's richest man, Rinat Akhmetov, whose Metinvest BV is the largest Ukrainian steelmaker, voiced alarm at the deteriorating situation. He urged in a Feb. 18 e-mail that all parties "work without delay until a solution is found that would take Ukraine out of this deep political crisis." The Donetsk-based company's production units are centered in Ukraine's southern and eastern regions.
'Our Money'
Lviv, a popular tourist destination with cobblestone streets and centuries-old architecture, has been in opposition hands since last month. Opposition forces there expelled the governor and declared independence from Kiev's control.
The region, which has an annual budget of 6.41 billion hryvnias ($716 million), is a net contributor to the central government. Like in Scotland and Catalonia, the parliamentary leaders complain about having to hand over all revenue to Kiev and then receive funds in a limited budget.
"The center takes all our money and this centralization makes us very dependent," Jaroslav Kachmaryk, the head of the parliamentary budgetary committee from the nationalist Svoboda party, said in a Feb. 13 interview. "If we don't control our finances, we can't be self-sufficient."
Fragmentation Threat
As the threat of the country fragmenting heightens, so does the risk of a split in the security forces.
Unlike the thousands of protesters camped out in central Kiev since Yanukovych backed out of an EU co-operation pact in November, those in Lviv and elsewhere in the west have the support of most local police apart from top commanders, according to observers.
The crackdown ordered by Yanukovych is a "tragic and irreversible decision," said Volodymyr Fesenko, head of the Penta Political Analysis Center in Kiev. "Western Ukraine may even declare its insubordination. Any attempt to restore order in western Ukraine by force will start a civil war."
In Lutsk, where protesters seized the regional government and stormed the police headquarters, police chief Vasyl Marchyshak declared that his force had gone over to the side of the opposition, Ukrainska Pravda reported yesterday. Governor Oleksandr Bashkalenko was captured by activists and handcuffed to a stage in the central square.
In case of an attempt by Yanukovych to declare a state of emergency, there's a threat of entire units of the armed police force in western Ukraine deserting, said Yuriy Yakymenko, an analyst at the Razumkov Center for Economic and Political Studies in Kiev.
Army Chief
"They will refuse to obey orders and after that they would be free to join the protesters' ranks," he said.
The Interior Ministry today said police remain loyal to Ukraine and are ready to protect citizens from "criminal actions of extremists," according to a website statement today.
Yanukovych fired army chief Volodymyr Zaman yesterday and replaced him with the head of the navy without explanation. Ukraine's military, 800,000 strong when the Soviet Union fell in 1991, has been reduced to 182,000 military personnel after two decades of budget cuts.
Historically, the country has been divided dating back to Tsarist times. The east was settled by ethnic Russians, who were also sent to Crimea in the south during Stalin's rule, and the west was part of Polish, Lithuanian and Austro-Hungarian empires. Western Ukraine was annexed by the Soviet Union in 1939 when it invaded Poland.
Aside from Kiev, the 10 regions with the highest economic output are in the east and south. The five with the lowest are in the west, according to statistics office data from 2011.
In the east, where factories depend on Russian gas, Kharkiv regional Governor Mykhaylo Dobkin said he wished the Soviet Union had never annexed the west and on Feb. 12 urged "federalization" because the unitary state "has failed."
In Lviv, municipal lawmaker Vasyl Pavlyuk is less guarded than some of his fellow opposition members.
"If they decide to use force to free these buildings and clear out Kiev's Independence Square, then of course people will turn to arms," he said on Feb. 13.
Before it's here, it's on the Bloomberg Terminal.
LEARN MORE