Six Killed as Blasts Hit Hezbollah Stronghold in Beirut
Alaa Shahine and Donna Abu-Nasr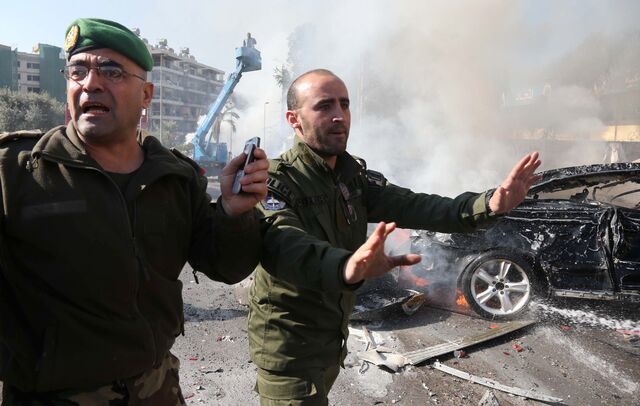 Two cars packed with explosives blew up in Hezbollah's stronghold in Beirut, killing at least six people, in the latest attack on the pro-Iran militant group that's fighting on President Bashar al-Assad's side in Syria.
The blasts today near the Iranian cultural office also wounded 128 people, Lebanon's state-run National News Agency reported, citing the Red Cross. The Iranian Embassy said there were no "serious injuries" among its staff, the news agency reported. Unidentified human remains could take the death toll higher, Health Minister Wael Abou Faour said.
The Abdullah Azzam Brigades, a Sunni militant group linked to al-Qaeda, claimed responsibility in a posting on Twitter and said it would continue to attack Hezbollah. The group's leader, Majed al-Majed, died last month from a chronic illness after the Lebanese army detained him.
The Syrian civil war has deepened rifts between Sunni and Shiite Muslims in Lebanon, leading to a wave of attacks on religious, civilian and political targets. The bombings began after Hezbollah acknowledged last year that its fighters were supporting Assad, whose Alawite sect is a Shiite offshoot, against the mainly Sunni rebels.
Targeting Iran
The two vehicles used by the attackers were rigged with a combined 350 pounds (160 kilograms) of explosives, according to NNA.
The Abdullah Azzam Brigades said they would "continue to target Iran and its party in Lebanon" until Brigades members are freed from Lebanese prisons and Hezbollah forces are withdrawn from Syria.
"This is part of a regular pattern, probably one of the most intense Lebanon has ever seen," Salman Shaikh, director of the Brookings Institution's Doha Center in Qatar, said by phone from Paris. He said the formation of a government over the weekend, ending an 11-month power vacuum, "is the best antidote to the instability, but it's not enough."
Syria's war and domestic unrest have slowed economic growth in Lebanon, the most indebted Arab country, to 1.5 percent in the past three years, from 7 percent in 2010, according to the International Monetary Fund.
Before it's here, it's on the Bloomberg Terminal.
LEARN MORE