business
Test Driving an iTesla: What Apple and Elon Musk Can Do for Each Other
By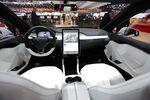 Tesla stock cracked an all-time high this week, trading as high as 206 on Monday and giving the Silicon Valley-based automaker a market valuation of $25 billion—10 times what it was worth a little more than a year ago. Shares are already up 36 percent this year, in addition to the 344 percent ascent they staged in 2013. To paraphrase renowned investor Sammy Hagar: Tesla. Can't. Drive … 55.
As usual, Wall Street is stoked ahead of Tesla's quarterly report today. But there's also a frisson of excitement spurred by a San Francisco Chronicle report that Apple's mergers chief visited Tesla management a year ago. Back in October, Adnaan Ahmad of Berenberg Bank wrote an open letter to Apple's chief executive officer and chairman, exhorting them to acquire Tesla. "It is all about what new avenues of growth there are for Apple over the next five years and beyond," he argued.
 
What are the odds?
"I would put zero chance of a merger," Peter Misek, senior tech analyst at Jefferies, declared on CNBC. "But I would put a lot of chance on collaboration. … Steve Jobs's departure has left a big, gaping hole—even now, with all the talent they have at Apple—so they would certainly look to collaborations, and [Tesla CEO] Elon Musk certainly fits that bill."
Not that an outright takeout would necessarily be prohibitive for Apple. It is, for starters, the largest company on the planet. In addition to its nearly half-a-trillion-dollar market capitalization, Apple has at least $158 billion in cash burning a hole on its balance sheet. In 2013 alone, the company bought back roughly one Tesla worth of itself and it still has an additional $18 billion or so remaining on its current buyback plan.
With its shares looking winded, Apple is under intense pressure to come up with the next big thing—watches, TVs—after innovating at the margins in the four years since the debut of iPad, its most recent big launch. Apple could do worse than to become synonymous with the current "it" company in tech and automaking. After all, every percentage point of global auto industry revenue won by Apple-Tesla love-child-mobiles would deliver upward of $16 billion in annual revenue.
Misek believes the companies could both gain from tag teaming on back-seat entertainment options in the forthcoming Tesla Model X. Such a tie-up, he says, would offer a "nice little incremental catalyst" for Apple shareholders.
So what would motivate Tesla? The financial and   flexibility to secure control of its own destiny.
Tesla wants to double its production capability this fiscal year. Dougherty & Co's Andrea James estimates that the carmaker entered the year producing at least 500 vehicles per week, a pace that it wants to increase to 800 weekly by the end of its next fiscal year. But if Tesla were to produce 500,000 vehicles a year, she says, it would need lithium-ion cell capacity on par with all production in the world today. "Cell supply," James says, "is the biggest constraint on Tesla's growth. It doesn't surprise me that these guys are talking. In our view, Tesla has always essentially been in the cell business."
Apple is no stranger to the battery-as-bottleneck insecurity. James notes that Tesla's battery lab is the envy of the industry, while its lithium-ion battery performance database is the world's largest and most thorough.
The urgency to finance and lock in a steady supply of batteries is only underscored by Tesla's entry in China, where it will deliver its first cars in April. One of the biggest risks to the Tesla story remains supplier issues outside its control. Tesla's Roadster, for example, counts on 150 suppliers for 2,000 parts.
Wall Street will be looking for guidance today on what provider Tesla might team with to build its own battery factory: Panasonic, Samsung, and LG Chem have been mentioned as short-listers. Apple crosses paths with all three. "The optimal arrangement," says James, "would be for the partner to bring as much capital to the table as possible while Tesla retains a controlling interest."
If Tesla does achieve its maximum factory capacity, she believes its $200 stock is headed to $300.
Critically, notes James, Elon Musk hits his payday jackpot if—and only if—Tesla's market capitalization hits $43.2 billion and the company clears the following 10 operational milestones by the year 2022, including the production of Model X and Gen III vehicles, gross margin of 30 percent for four consecutive quarters, and aggregate production of 300,000 cars.
Apple's balance sheet and buying clout would no doubt mitigate the many execution risks facing this masochistic regimen. Musk, who is Tesla's biggest shareholder, last year remarked that being acquired is "one possible outcome," specifying that a potential buyer would have to lug a big cash position. While the controlling wiz passed on the chance to discuss possible suitors, he did concede that, yes, Apple had lots of the stuff.
Before it's here, it's on the Bloomberg Terminal.
LEARN MORE