Tesla's Stock Remains Electric on Higher Sales Forecast
by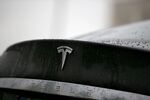 Investors wondering whether shares of Tesla Motors could possibly go any higher got their answer Wednesday. Moments after the all-electric automaker issued its fourth-quarter results, shares of Tesla jumped by about 15 percent in after-hours trading. Tesla's shares have now climbed from $33.80 to $221 over the past year.
The enthusiasm generated by the fourth-quarter results stems from a couple of things. In a shareholder letter, Tesla said it expects to ship 35,000 of its Model S sedans in 2014, a 55 percent year-over-year increase. The company also said it expects to hit gross margins of 28 percent by yearend, which is a significant bump over the 25 percent gross margins that Tesla Chief Executive Officer Elon Musk has talked about in the past. "For the year, Model S was the top selling vehicle in North America among comparably priced cars," the company said. "The potential in Europe and Asia is even more significant. Towards the end of the year, we expect sales in those regions combined to be almost twice that of North America."
Tesla sold 6,892 cars in the fourth quarter and posted revenue of $761 million. Excluding charges and unusual items, it reported net income of $46 million; including those costs, Tesla had a net loss of $16 million.
Founded about a decade ago, Tesla seems to have really hit its stride after years of dealing with design and manufacturing complexities that delayed its cars getting to market. Investors have long questioned the company's ability to execute and the premise of all-electric cars, leaving Tesla as one of the most shorted stocks in the U.S. While there are still blips here and there—namely, some mechanical flaws and reports of a handful of fires—Tesla's biggest recent problem has been making enough Model S sedans to meet demand.
Near the end of this year, Tesla plans to come out with a type of SUV called the Model X. That will be followed by a cheaper sedan, a sports car, and possibly even a truck. The company's current valuation of about $25 billion—or close to half of GM's $57 billion—would only seem to make sense if Tesla can become a mass producer of electric vehicles.
Before it's here, it's on the Bloomberg Terminal.
LEARN MORE