Spanish Yields Climb From 8-Year Low; Bund Auction Misses Target
Neal Armstrong and Lukanyo Mnyanda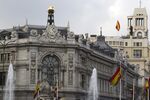 Spain's 10-year government bonds fell, snapping gains that pushed the yield below 3.5 percent for the first time in eight years, before the country sells as much as 5 billion euros ($6.88 billion) of debt tomorrow.
The securities dropped for the first time in five days before the auction of debt maturing between 2019 and 2044 and as Madrid's finance chief said he is considering increasing bond sales. German 10-year bunds were little changed as demand declined at an auction of benchmark securities, with investors' bids falling short of the maximum target. Italy's 10-year bonds slid for the first time in five days, pushing the yield up from the lowest level in eight years.
"Spain will sell bonds tomorrow and what's more, the region of Madrid announced that it plans to increase bond sales this year," said Felix Herrmann, a research analyst at DZ Bank AG in Frankfurt. "There could be a general tendency for profit taking after several days of spread tightening."
Spain's 10-year yield rose four basis points, or 0.04 percentage point, to 3.57 percent at 4:41 p.m. London time after falling to 3.487 percent, the least since February 2006. The 3.8 percent bond due in April 2024 dropped 0.345, or 3.45 euros per 1,000-euro face amount, to 102.06
Madrid, the second largest contributor to Spain's economy and its least-indebted region, faces 3.6 billion euros of debt maturities this year, of which 3 billion euros have already been financed with public bond sales.
Market 'Confident'
"The price and volume of our recent operations show the market is confident in Madrid and other solvent regions," Finance Chief Enrique Ossorio Crespo said in an interview in his office in Madrid on Feb. 17. The region may sell more bonds and raise less money through bank loans, he said.
Spain plans to sell bonds maturing in April 2019, April 2024 and October 2044 tomorrow. The Madrid-based Treasury last sold 10-year debt on Dec. 19 at an average yield of 4.098 percent, compared with a rate of 4.164 percent at a previous auction on Nov. 7.
Germany allotted 3.8 billion euros of 10-year debt due in February 2024 at an average yield of 1.64 percent. That's the lowest rate since July. The nation last sold the securities on Jan. 29 at an average yield of 1.77 percent.
Investors bid for 4.33 billion euros, or 1.14 times the amount of bunds allotted, compared with 1.809 times at last month's sale. That's the first time bids failed to exceed the sale target since September 2012. The maximum target for today's auction was 5 billion euros.
'Technically Failed'
"We're down at the sort of levels in yield terms on bunds where the enthusiasm is quite limited," said Marc Ostwald, a strategist at Monument Securities Ltd. in London. "There's a desperate reach for yield but bunds don't really fit that bill. A technically failed auction is not a totally unusual occurrence."
Germany's 10-year bund yielded 1.66 percent. The rate fell to 1.60 percent on Feb. 5, the lowest level since Aug. 1.
The auction result was "wholly normal" and "completely reflects a fair reaction in the market," Frankfurt-based Federal Finance Agency spokesman Joerg Mueller said in telephone interview after the sale.
The bonds of the region's most-indebted nations have rallied since European Central Bank President Mario Draghi pledged in 2012 to do whatever it takes to safeguard the euro.
By the end of last year, Ireland emerged from its international rescue program after borrowing costs declined. Italian bonds have extended gains on prospects of a new government accelerating economic reform.
Italy's 10-year yield climbed three basis points to 3.59 percent after falling to 3.53 percent, the lowest level since January 2006.
Volatility on Spanish bonds was the highest in euro-area markets today, followed by those of Ireland and Portugal, according to measures of 10-year debt, the yield spread between two- and 10-year securities and credit-default swaps.
Spanish securities returned 4 percent this year through yesterday, Bloomberg World Bond Indexes show, while Italy's gained 3.5 percent. German bonds earned 1.9 percent.
Before it's here, it's on the Bloomberg Terminal.
LEARN MORE