Renzi Wins Berlusconi Praise, Grillo Jibes to Set Up Premiership
Andrew Frye and Chiara Vasarri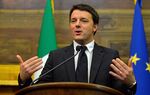 Matteo Renzi, Italy's prime minister-designate, won over the leaders of a divided parliament by coaxing some rivals into cooperation and keeping his cool under a barrage of insults from others.
Renzi is now in a position to begin drawing up his program today and officially accept the premiership on Feb. 22. His success, announced yesterday after two days of coalition talks, was registered in praise from Silvio Berlusconi, the billionaire three-time premier, and a qualified endorsement from Angelino Alfano, whose 31 senators will probably round out Renzi's majority in the fractious upper house.
Renzi, 39, is trading on the credibility he built with voters over the last three years as an outspoken critic of Rome's established power brokers. That respect was on display in the compliments of adversaries like Berlusconi and Guido Crosetto, as well as in the insults Renzi absorbed from his severest critic in a showdown broadcast in a live webstream.
"You're a good person who represents a rotten power system," Beppe Grillo, the comic-turned-populist party leader, told Renzi in the webcast yesterday, the two men facing each other across a table. "I came here to manifest our complete indignation at what you represent."
The webcast, unusual for what are traditionally closed-door negotiations, was demanded by Grillo and consented to by Renzi. It was the final meeting of the day, and after Grillo exited, Renzi appeared before reporters in Rome's Chamber of Deputies to say he was on track to clinch a majority. The government will focus on enacting his legislative priorities before Italy assumes the European Union presidency in the second half of the year, he said.
'Excellent Job'
"There clearly are the conditions in place to do an excellent job," Renzi said, adding that he'll "assemble a program that's complete as can be and capable of bringing us to the European semester with a series of practical reforms."
Investors in Italian debt have welcomed Renzi's rise to power, with 10-year bonds dropping to the lowest since 2006 on Feb. 17, the day Renzi was asked by President Giorgio Napolitano to form a government. The extra yield on Italy's 10-year bonds over similar-maturity German bunds shrank that day to the narrowest since July 2011.
Renzi's next step will be settling on a cabinet, with special attention given to the replacement for outgoing Finance Minister Fabrizio Saccomanni. Agreeing on the right person for that job, which entails oversight of Italy's $2.85 trillion debt, may require coordination with Napolitano.
Abolish Senate
The new government will appear in parliament for the first time on Feb. 24, Renzi said. At that point, the wrangling over legislation will begin, and the approval he has accumulated over the last two days may help him along. Among the first items on his agenda are a new electoral law and a constitutional amendment to abolish the Senate.
"We agreed on the constitutional change in the Senate," Berlusconi, 77, told reporters after his private meeting with Renzi. Berlusconi, who said he won't participate in the ruling coalition, said the meeting with Renzi was a pleasure and predicted that the premier-designate would lead a generational change in Italian politics.
The promise of cooperation with Berlusconi on big-picture proposals improves Renzi's hand as he deals with the smaller parties he needs to round out his coalition. Renzi, who leads parliament's biggest group, the Democratic Party, is counting on Alfano, 43, a former protege of Berlusconi. Alfano said he's ready to join the coalition if the program meets his specifications.
Outsider Status
Renzi, the mayor of Florence, has played up his outsider status. When he arrived at the Chamber of Deputies on Feb. 18 for his first day of coalition talks, the Adnkronos news agency reported that he asked the staff at the front to direct him to the right conference rooms. Grillo, speaking to reporters after meeting Renzi, used starker imagery to evoke the challenge of an outsider seeking to change politics as usual in Rome.
Grillo, who was convicted of manslaughter in the 1980s as the driver in a one-car accident that killed two friends and their child, didn't take a seat in parliament after he led his Five Star Movement to a quarter of the vote in the general election last year. Berlusconi was expelled from the Senate in November after a conviction for tax fraud.
"Today this poor guy had to meet with two criminals with no membership in parliament: me and Berlusconi," Grillo said.
Before it's here, it's on the Bloomberg Terminal.
LEARN MORE