Panera Tries to Speed Up for Its Move Into Cities
By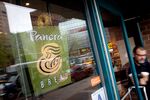 To compete with fast-food chains, Panera has been trying to get orders out faster with upgraded equipment and additional workers. Nowhere has the learning curve been faster than in the chain's new city restaurants, which can produce an entrée as often as every six seconds during peak hours.
Panera's growth plan involves opening new restaurants in "urban areas where we may have little operating experience," according to a filing with the Security and Exchange Commission last year, after adding eight restaurants in New York, Boston, and Toronto. While the chain had some urban locations, many of its stores are in the suburbs or malls.
Roger Matthews, Panera's chief financial officer, said during an earnings call on Wednesday that the city stores have so far been "difficult, certainly more difficult than the suburban kind of environment." The benefit, he said, is that "the volumes are extraordinarily high." Unfortunately, so are the rents and capital costs. So while the actual profit dollars from urban stores are significantly higher, Matthews said the return on investment is more modest than in suburban locations.
Miller Tabak analyst Stephen Anderson wrote in a note last year that ongoing troubles at Panera competitor Così—poor service, declining same store sales, and an inability to generate profit—will open up urban markets where Così currently has a stronger presence than Panera. Speed will no doubt be critical for Panera to do better.
Before it's here, it's on the Bloomberg Terminal.
LEARN MORE