More Deaths, New Graft Accusations Deepen Thailand's Crisis
by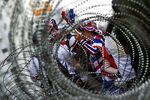 With more bloodshed in Bangkok, the chances of the generals intervening to end the crisis are increasing. Five people died in the Thai capital yesterday, and at least 65 were injured after antigovernment protesters clashed with police officers trying to end one of the movement's blockades.
The leader of the movement against Prime Minister Yingluck Shinawatra is vowing to maintain the pressure. Calling her a "murderer," Suthep Thaugsuban told demonstrators in Bangkok last night, "We will pursue her everywhere, anywhere, anytime, all the time." Suthep faces a murder charge of his own—the former deputy prime minister is charged with authorizing the military to fire on protesters supporting Yingluck's brother, ousted Premier Thaksin Shinawatra, in 2010. The military deposed Thaksin in a bloodless coup in 2006, and the two sides have been fighting for control of the country ever since.
There's still a possibility of a Yingluck ouster that doesn't involve once again tearing up the Thai constitution. In a major step toward impeachment, the kingdom's National Anti-Corruption Commission said on Tuesday it has enough evidence to charge Yingluck with graft associated with her ill-fated program to buy rice from farmers at above-market prices. Thailand has spent 689 billion baht ($21.2 billion) on the program, resulting in rice that the government cannot sell. The stockpile now weighs 14.7 million tons, compared with just 6.1 million tons in 2010.
The opposition has long denounced the rice program as an ill-disguised scheme to reward Yingluck voters in rural areas, and the anti-corruption commission now alleges that graft took place at all stages of the program. Yingluck did nothing to stop it, the commission claims, "which shows that she was negligent in her duty or corrupt and abused her power under the constitution, which may be a cause for impeachment."
Yingluck says there was no conspiracy and denounced critics for playing "political games" with the rice program. Making matters even more complicated for her is a drought that has hit the northern and northeastern provinces, key rice-growing areas and the foundation of the pro-Thaksin movement. According to state-owned broadcaster MCOT, the drought is so bad that sand dunes are now visible in the Mekong River.
With the government unable to pay many farmers for their rice, Yingluck's opponents have been hoping to crack her support in these areas. Setbacks because of the drought could make the farmers even more willing to switch sides. Thailand's finance minister, Kittiratt Na-Ranong, said this week that the government plans on paying farmers within eight weeks. For the embattled prime minister, that might not be fast enough.
Before it's here, it's on the Bloomberg Terminal.
LEARN MORE