JPX Will Consider Merging Jasdaq, Mothers, TSE Second
Anna Kitanaka and Satoshi Kawano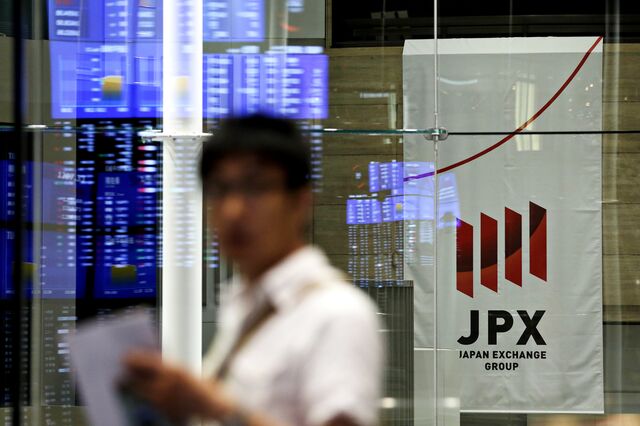 Japan Exchange Group Inc. will consider merging three smaller equity markets to simplify its exchange structure, a bourse official said.
JPX, created last year from the merger of the Tokyo Stock Exchange and Osaka Securities Exchange, will weigh combining its Mothers, TSE Second Section and Jasdaq markets, Yasuyuki Konuma, executive officer for the new listings department, said in an interview in Tokyo yesterday. Serious discussion has yet to begin and there is no schedule for the merger, he said.
"There are some who say it's a problem that we have so many markets," said Konuma. "We need to begin discussing whether we need to merge them, the merit being simplicity."
The creation of the national bourse last year was part of a state plan to streamline Japan's securities industry and revive its standing as a financial hub. Potential consolidation contrasts with the U.S., where trading is spread across more than 50 public and private markets as well as dozens of internal platforms at broker-dealers.
That fragmentation is blamed by some for making American capital markets too complex. Two U.S. exchange operators, Bats Global Markets Inc. and Direct Edge Holdings LLC, have retained their four individual markets even after the parent companies completed their merger this month.
Bigger Market
Companies listed in Japan have the second-biggest aggregate value in the world, with a market capitalization of $4.4 trillion as of Feb. 17, according to data compiled by Bloomberg.
The nation still has three other regional stock exchanges outside of Tokyo and Osaka, with Fukuoka in the south, Nagoya in central Japan and Sapporo in the north. There are also two alternative trading platforms that display prices: SBI Japannext and Chi-X Japan Ltd.
A merger of the three JPX markets would create a trading venue with more than 1,600 stocks. The Topix index tracking shares listed on the First Section of the exchange has 1,775 members. Differing rules make it harder for companies to move to the First Section from Jasdaq than from the other two markets for smaller shares.
"The First Section is like a university," Konuma said. "The Second Section and Mothers are like schools that have a gateway into the university. If companies on the Jasdaq want to join the First Section but they don't meet the higher market cap requirements, they have to first move into one of the 'gateway schools' and then try and move up. They have to have reviews twice, and it takes time. So sometimes people question when we're going to fix this disparity."
Mothers Surge
Mothers, an acronym for "market of high-growth and emerging stocks," was formed in 1999 by the Tokyo Stock Exchange and features 193 companies including blog website operator CyberAgent Inc., biopharmaceutical company Takara Bio Inc. and smartphone game developer Colopl Inc. as its biggest-weighted members. Companies must have a market capitalization of 1 billion yen ($9.8 million) to be included in the market and grow to 4 billion yen to move up to the TSE First Section.
The Mothers Index surged 137 percent last year, with CyberAgent soaring 142 percent, Takara Bio leaping 202 percent and Colopl surging 769 percent in its first year of trading.
Other Markets
The TSE Second Section of "established mid-sized companies," contains 560 companies that had a market value of more than 2 billion yen on the day they listed. Its biggest members include medical tool maker Asahi Intecc Co., automobile parts maker Nippon Seiki Co. and transmission parts maker Hi-Lex Corp. Like Mothers, companies must have a value of more than 4 billion yen to move into the TSE First Section. The TSE Second Section Index jumped 44 percent last year, its biggest gain since 2005.
The Jasdaq market, split between the standard section and the growth section for companies with unique technologies or business models, list 872 shares in total. Companies must have a market value of at least 5 billion yen or a recent annual profit of 100 million yen to list, and must be worth 25 billion yen to move into the TSE First Section.
The Topix jumped 51 percent last year, the most since 1999. The measure slipped 0.5 percent today to 1,218.52 in Tokyo. The TSE Mothers Index climbed 1 percent, the TSE Second Section Index added 0.3 percent and the Jasdaq Stock Index slid 0.1 percent. Japan Exchange Group shares fell 3.2 percent to 2,515 yen.
IPO Trends
While new listings in Japan have been increasing every year since falling by more than half in 2009 amid the global credit freeze, the number of initial public offerings is still about a third below a peak in 2000. Of the 53 companies that listed on the Mothers, TSE Second Section and Jasdaq last year, 51 rose above their initial offer price on their first day of trading, data compiled by Bloomberg show.
Individual investors account for more than 70 percent of the trading value in those three markets, while foreign investors make up less than 20 percent, according to JPX. Foreigners are responsible for 54 percent of trading on the TSE First Section while individuals account for 24 percent, the bourse data show.
Before it's here, it's on the Bloomberg Terminal.
LEARN MORE