How to Tell If Jimmy Fallon's Hot Start Becomes a Joke
By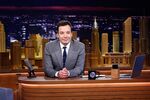 It's all gravy for Jimmy Fallon at the moment. Thanks to a huge marketing push and a line of top celebrities waiting to get on his guest list, the talk show host's first two days on NBCUniversal's Tonight Show have been smooth.
And people are certainly watching. Roughly 11.3 million, or 15 percent of Americans with a TV on, tuned in Monday night for Fallon's debut in the 11:30 p.m. slot. An estimated three-quarters of those folks returned the following night.
Now the question is, how many of those people can Fallon hold on to once the novelty wears off and Robert De Niro stops dropping by? And how many will have to keep watching for the star to be considered a success?
The bar is set relatively low. Given the time slot, even the biggest moments in late-night TV don't draw anywhere near as many people as major sporting events or marquee reality shows and sitcoms. Consider the first week of February: the opening ceremonies of the Olympics drew 31.7 million viewers; CBS sitcom The Big Bang Theory grabbed 17.5 million; and American Idol won 13.4 million, according to Nielsen.
NBCUniversal got used to Jay Leno's Tonight Show drawing somewhere around 3.6 million viewers, roughly one-third the number of people who watched Fallon's on Monday night. That would be a good number for Jimmy Kimmel to shoot for if he's setting long-term, average goals. David Letterman, meanwhile, attracts about 2.8 million viewers and Jon Stewart's The Daily Show on Comedy Central gets 2 million. Staying ahead of those guys is important, too.
But NBC might be less focused on total viewer numbers than on capturing as much as it can of the audience in the 18- to 49-year-old range. A 25-year-old consumer, to most advertisers, is more valuable than a 55-year-old one—he's likely to be buying things for a lot longer.
Fallon's version of late-night entertainment also plays to the strengths of the Web and social media. Performances by a mainstream band and the host's penchant for singing and dancing duets are often carved off and served as sought-after leftovers the next day. Leno is a talented guy, but he never sang an R. Kelly hit as part of a barbershop quartet.
Before it's here, it's on the Bloomberg Terminal.
LEARN MORE