U.S. Stocks Gain, Treasuries Drop on Global Factory Data
Nick Taborek and Callie Bost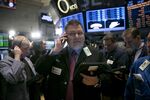 U.S. stocks rose as better-than-forecast growth in American manufacturing and Facebook Inc.'s $19 billion WhatsApp Inc. deal overshadowed concern over the global economic outlook. Treasuries fell and shares in European emerging markets dropped while natural gas slipped.
The Standard & Poor's 500 Index added 0.6 percent to 1,839.78 in New York, within nine points of a record close. Yields on 10-year Treasuries gained one basis point by 4:32 p.m. to 2.75 percent as an auction of inflation-indexed bonds attracted the weakest demand in a dozen years. The MSCI EM Europe Index declined 0.4 percent amid ongoing clashes in Ukraine. Coffee and natural gas lost at least 1.4 percent while cocoa and corn rallied. The Brazilian real strengthened.
Fewer Americans filed applications for unemployment benefits last week, a Labor Department report showed, while Markit Economics' preliminary index of U.S. manufacturing increased in February. China's manufacturing dropped to a seven-month low, according to a private index, and a factory gauge for the euro region unexpectedly slipped. Facebook's deal to buy the mobile-messaging startup for cash and stock will be the biggest Internet acquisition in more than a decade.
"M&A is alive and well, corporate balance sheets remain strong, dividend growth continues," John Carey, a fund manager at Pioneer Investment Management Inc., a Boston-based firm that manages about $220 billion worldwide, said by phone. "There may be some fluctuations in the market, but when people come back and focus on the underlying fundamentals here in the U.S., I think they're going to keep coming back to stocks."
Jobless Claims
The Markit Economics preliminary index of U.S. manufacturing increased to 56.7 in February from a final reading of 53.7 last month, the London-based group said today. A figure greater than 50 for the purchasing managers' measure indicates expansion. A separate gauge of business in the Philadelphia region unexpectedly fell.
U.S. jobless claims declined by 3,000 to 336,000 in the week ended Feb. 15. The median forecast of 53 economists surveyed by Bloomberg called for a drop to 335,000. The Conference Board's index of U.S. leading indicators, a gauge of the outlook for the next three to six months, rose 0.3 percent in January, the New York-based group said today.
Investors have been dismissing disappointing U.S. economic data over the past two weeks, blaming harsh winter weather for unexpected weakness in reports from housing to hiring.
Treasuries dropped for a second day amid bets that the data won't keep the Fed from further reductions in bond purchases. The five-year yield increased two basis points, or 0.02 percentage point, to 1.54 percent. The sale of $9 billion in 30-year Treasury Inflation Protected Securities drew the weakest demand in a dozen years amid stagnant inflation.
Fed Guidance
Fed Chair Janet Yellen last week said the economy has strengthened enough to withstand continued cuts to monetary stimulus, adding that only a notable change in the outlook for the economy would prompt the central bank to slow the pace of tapering.
Three rounds of stimulus have helped push the S&P 500 as much as 173 percent higher from a 12-year low in 2009.
The S&P 500 has slumped as much as 5.8 percent from a record reached Jan. 15 as investor concern over Fed tapering fueled a rout in emerging markets. The gauge subsequently rose 5 percent from a Feb. 3 low, climbing to within one point of its all-time closing high yesterday before retreating 0.7 percent.
Facebook Jumps
Facebook, the world's largest social network, rose 2.3 percent today, reversing an earlier decline. The Facebook acquisition was the fourth major deal this year, with Comcast Corp.'s $45.2 billion purchase of Time Warner Cable Inc. the biggest. Actavis Plc announced Feb. 18 a $21 billion deal to buy Forest Laboratories Inc. and Suntory Holdings Ltd. agreed in January to pay $16 billion for Beam Inc.
"The underlying strength of the U.S. consumer, of U.S. corporations, is still there," James Liu, a Chicago-based global market strategist at J.P. Morgan Funds, oversees about $400 billion, said by phone. "On the emerging markets side, the question is whether there is contagion for the U.S. market, and I think the answer that we've seen is no."
Wal-Mart Stores Inc. slipped 1.8 percent after forecasting earnings per share in the first quarter that was less than analysts projected.
The MSCI Emerging Markets Index dropped 0.9 percent. The Hang Seng China Enterprises Index of mainland companies listed in Hong Kong retreated 0.8 percent and the Shanghai Composite Index dropped 0.2 percent, erasing gains of as much as 1.7 percent. Russia's Micex Index lost 0.3 percent and Poland's gauge slid 0.9 percent.
'Downside Risk'
A purchasing managers' gauge for Chinese manufacturing from HSBC Holdings Plc and Markit Economics fell to 48.3 in February, below the median estimate of 49.5 in a Bloomberg survey of economists. A number below 50 indicates contraction.
"People globally underestimate the downside risk to the Chinese economy," Dariusz Kowalczyk, a Hong Kong-based strategist at Credit Agricole CIB, said in a Bloomberg Television interview. "The economy is not just slowing but there's a lot of financial risks here. The chance of a crisis is rising and very real."
Thailand's SET Index slumped for a third day, losing 1.3 percent, the steepest loss since Jan. 28. Advanced Info Service Pcl and Shin Corp., once linked to former Thai prime minister Thaksin Shinawatra, dropped at least 2 percent as anti-government protesters held demonstrations outside the offices in Bangkok.
Ukraine Violence
The Ukrainian Equities Index surged 3.9 percent, after two days of declines. European Union governments agreed to freeze assets belonging to Ukrainian officials and deny them travel visas, raising pressure on President Viktor Yanukovych to stem the violence between security forces and protesters.
Clashes erupted early this morning in the Ukrainian capital, undermining a truce declared last night by Yanukovych and opposition leaders. The Health Ministry said on its website that at least 28 people had died and hundreds were injured in this week's violence, while the opposition Svoboda party put the death toll at more than 60.
Risks of prolonged market turmoil in emerging markets and of deflation in the euro area are threatening improved global economic prospects, International Monetary Fund staff wrote in a note prepared for central bankers and finance ministers from the Group of 20, before their meeting this weekend in Sydney.
Global finance chiefs will use the talks to recommend monetary policy is carefully calibrated and clearly communicated as they try to settle a spat between the U.S. and emerging markets over the wind-down of Fed stimulus.
Emerging Markets
The run-up to the meeting has been marked by criticism from emerging markets that the Fed hasn't paid enough attention to the international fallout from its decision to taper bond buying. Emerging-market stocks and currencies fell since the pullback was announced in December as investors turned more risk averse and punished economies with flaws such as large current-account deficits or political discord.
The Stoxx Europe 600 Index fell 0.1 percent, paring a drop of as much as 1.1 percent, as more than two shares declined for every one that gained. Trading volumes in the gauge were 14 percent less than the 30-day average, according to data compiled by Bloomberg.
BAE Systems Plc tumbled 8.3 percent after Europe's largest arms manufacturer predicted that profit will drop as much as 10 percent this year. TUI AG slid 5.4 percent as Monteray Enterprises Ltd., which belongs to billionaire John Fredriksen, started to sell a 15.7 percent stake in the holiday operator.
Real Rallies
Brazil's real increased the most among major currencies, adding 1 percent versus the greenback after the government cut spending to meet a budget target.
The S&P GSCI Index of raw materials fell for the first time in seven days, dropping 0.1 percent to end its longest rising streak in six months. Copper futures slid 0.3 percent. China is the biggest buyer of industrial metals. Gold added 0.9 percent to $1,323.41 an ounce.
Natural gas slipped 1.4 percent after a government report showed U.S. stockpiles declined less than analysts estimated. Futures soared 18 percent over the previous two days to the highest level since 2008 as cold temperatures boosted demand for the heating fuel.
West Texas Intermediate crude fell 0.4 percent to $102.92 a barrel, declining from a four-month high as the Energy Information Administration said U.S. inventories climbed.
Arabica coffee for May delivery fell 4.5 percent in New York, sliding the most in 41 months, while cocoa gained 1.3 percent to a 29-month high amid prospects global chocolate sales will reach a record in 2014. Corn rose 0.4 percent.
Spain's bonds dropped, pushing 10-year yields four basis points higher to 3.60 percent. The rate on similar-maturity Italian securities increased six basis points to 3.65 percent.
The Spanish government sold 10-year bonds at a yield of 3.559 percent, the least since 2006 and down from 4.098 percent on similar-maturity notes in December.
Before it's here, it's on the Bloomberg Terminal.
LEARN MORE