Alstom Said to Face U.K. Bribe Charges After 5-Year Probe
Suzi Ring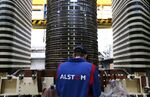 Alstom SA, the French maker of trains and power equipment, will be charged in the U.K. over bribery allegations after a five-year investigation, according to two people with knowledge of the case.
The Serious Fraud Office may ask the attorney general to approve charges in the coming weeks, a standard requirement for the agency to prosecute some offenses, according to the people, who asked not to be identified because the case is private.
The company has been the subject of corruption investigations in the last five years spanning France, Switzerland, Brazil and the U.S. The train maker was fined 38.9 million Swiss francs ($43.8 million) in 2011 by the Swiss Attorney General's office over bribes paid in Latvia, Malaysia and Tunisia. The French inquiry was closed in 2009.
"We inherited this investigation," David Green, the director of the SFO since April 2012, said in an interview this month. "It has been given resource and tight focus. I anticipate significant developments in due course."
The SFO said in 2011 it suspected that Alstom gave money to companies that acted as "bogus consultants" to bribe overseas officials for contracts from 2004 to 2010, according to court papers at the time. The agency arrested three members of Alstom's board in the U.K. in 2010 over allegations of bribery, money laundering and false accounting.
Claire Biau, a spokeswoman for Alstom, declined to comment.
Fine, Ban
The Levallois-Perret, France-based maker of power generation and transmission equipment, trains, trams and subway cars, faces penalties ranging from a fine to a ban from competing for public contracts in the European Union, if it's successfully prosecuted.
The U.K. case against two of the executives who were arrested -- Stephen Burgin, the unit's president, and Robert Purcell, its finance director -- has been dropped, their lawyer, Shaul Brazil, said. The third man died in April 2010.
The company is facing mounting probes in other countries as well. In Sao Paulo, a prosecutor is preparing to ask a judge to halt Alstom's operations in Brazil and cancel its registration in the country after the company was accused of paying bribes, an official familiar with the case said last month. The country's Federal Justice opened a criminal lawsuit on Feb. 18 against 11 people accused of participating in the bribes.
Alstom shares declined 3.6 percent to 19.45 euros at 5:11 p.m. in Paris. Russell Hayes, a spokesman for the U.K. attorney general's office, didn't immediately respond to a request for comment.
Failed Prosecutions
In the U.K., the SFO is under increased pressure after a number of failed corruption prosecutions. A case against British businessman Victor Dahdaleh, accused of paying about 40 million pounds ($67 million) in bribes to senior executives of a Bahrain-owned aluminum company, collapsed halfway through the trial in December.
BAE Systems Plc, Europe's biggest defense company, was sentenced to pay a 500,000-pound fine in 2010 after a six-year bribery investigation. U.S. authorities fined BAE $400 million for similar offenses.
The SFO should go after complex bribery and corruption cases, Green said when he became director. The agency is investigating bribery allegations at companies including Eurasian Natural Resources Corp. and Rolls-Royce Holdings Plc. The U.K. prosecutor arrested two men and searched several properties in London in connection with the Rolls-Royce investigation last week.
Green "has reiterated that its remit is to deal with the 'top slice' of economic crime," said Matthew Bruce, a London-based lawyer at Freshfields Bruckhaus Deringer LLP. "The SFO will now be keen to bring a number of successful prosecutions against corporates in 2014, so it can put a tough few years behind it and try and demonstrate that it is a prosecutor with teeth."
Before it's here, it's on the Bloomberg Terminal.
LEARN MORE