Wall Street Decathlon Revisits 'Dan & Dave' Rivalry That Wasn't
Erik Matuszewski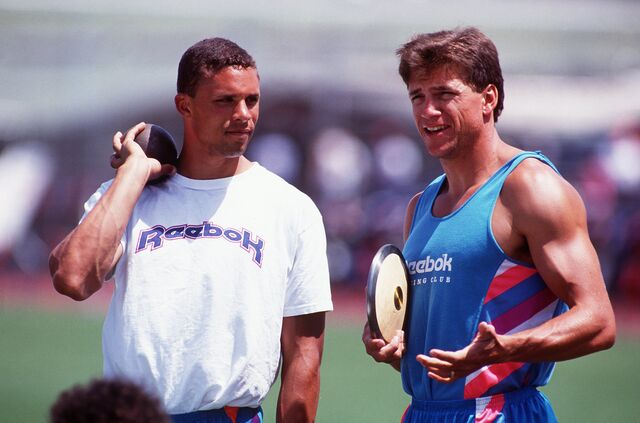 Olympic medalists Dan O'Brien and Dave Johnson will try to answer a 22-year-old question at this year's Wall Street Decathlon: Who's the better athlete, Dan or Dave?
The rivalry, built up in a five-month series of Reebok television commercials in 1992, never materialized as O'Brien failed to qualify for the Olympics at the U.S. track and field trials. Johnson went on to win a bronze medal in the decathlon in 1992, while O'Brien set a world record less than two months after the Barcelona Games and came back to capture Olympic gold in 1996.
O'Brien, 47, and Johnson, 50, in four months will finally get a chance to square off at the RBC Decathlon, a 10-event charity competition created in 2009 to crown Wall Street's best all-around athlete while raising about $3.5 million for cancer research. O'Brien participated for the first time in the 2013 competition and convinced Johnson to join him this year.
"It was a lot of ups and downs with the experience we had, but in the end it was something that Dan and I enjoyed," Johnson, who has spent most of the past 15 years working as an athletic administrator in his home state of Oregon, said in a telephone interview. "We're excited to come back for this competition and hopefully further inspire what is really something amazing happening on Wall Street."
Registration opens today at the RBC Decathlon's website for the June 22 event, which will be held at St. John's University's DaSilva Memorial Field in Queens, New York.
The competition is limited to a field of 150 individuals and three-person teams, and only open to those who work in the financial services industry. The RBC Decathlon raised more than $1.4 million last year for Memorial Sloan-Kettering Cancer Center in New York and competitors are required to collect at least $3,000 in donations. Teams must get $10,000 in pledges.
Reunion
O'Brien, who is now an analyst for NBC Sports' track and field coverage and has been covering the sport's indoor season, said he's looking forward to reuniting with Johnson in a competitive setting. The commercials the two did for Reebok started during the Super Bowl and ran until the U.S. trials, turning them into household names even though they never got to compete against each another in the Olympics.
"I get recognized for 'Dan and Dave' as much as for winning the Olympic gold medal in '96. And for some people, it's the only thing they remember," O'Brien said by phone. "It's over 20 years ago and people still remember those commercials. It's fun. Because we did those ads, it's easy to put us as rivals, but we're good friends. I like reconnecting with him and being able to bring more awareness to the event."
Event Lineup
The event lineup for the RBC Decathlon is slightly different than the Olympic competition O'Brien and Johnson specialized in. There are three running events -- at distances of 40 yards, 400 meters and 800 meters -- in the one-day competition, as well as pull-ups, a football throw, an agility drill, rowing, vertical jump, bench press and dips -- a triceps exercise using one's own weight.
"It's a good excuse to work out and make me more focused on fitness rather than sitting at a desk," said Johnson, who works with high school and college coaches as director of the Fellowship of Christian Athletes in Willamette Valley, Oregon, and is also a coach for the girls' track team at Oregon State University, where he teaches pole vault and shot put.
"It's not a walk in the park," added Johnson, who in August was part of a 12-person team who ran the 199-mile Hood to Coast race in Oregon. "It's going to be a lot of work, it's competitive and it's going to test the body."
For Wall Street's weekend warriors, it will be a chance to test themselves against Olympic medalists.
'Unique Opportunity'
"We've seen the RBC Decathlon's participant base, as it has grown, become more seasoned," said Dave Maloney, who co-founded the event with former Auburn University track teammate Marc Hodulich. "Rather than getting an influx of very young, first-year analysts, we've seen the event grow in the 35- to 45-year-old age group. Dan and Dave very much resonate among that demographic. The chance for that part of Wall Street to compete with those guys is a very unique opportunity."
Vito Sperduto, head of U.S. mergers and acquisitions at RBC Capital Markets and a former Harvard University rugby player, said the "Dan and Dave" marketing campaign was part of the American psyche for those who grew up in the era.
"Competing with Dan last year was incredible," Sperduto, who was last year's top individual fundraiser with $80,000. "Dan clearly last year noticed that there were a number of individuals who were marking themselves against him. It was fun to watch and chat with him throughout the day. He was extremely excited about the cause."
Multiple Titles
In addition to the best athlete title -- won the past two years by former Penn State football player Mark Rubin of Barclays Plc -- titles are awarded to the top women's finisher, the top executive and in 30 to 39, 40 to 49 and over 50 age groups.
Johnson acknowledges his days of running the 40-yard dash in 4.4 seconds are about 30 years behind him, yet says the competitive fire still burns. O'Brien said while he'll work over the next four months on getting in better running shape, the most important aspect of preparing for the RBC Decathlon is being able to recover from event to event.
Both say they're looking forward to revisiting the "Dan and Dave" era more than two decades later. They've even sifted through mementos and exchanged photos of t-shirts and posters they still have from the original campaign.
"I don't know what kind of shape Dave is in. I'm going to go there like any decathlon and I'm going to compete against myself and the rest of the field," O'Brien said. "And hopefully I'm in better shape than he is."
Before it's here, it's on the Bloomberg Terminal.
LEARN MORE