The Anti-Under Armour: Tiny Swedish Company Wins Big on Speedskating
by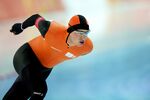 The Olympics are shaping up to be a disaster for Under Armour, but things are progressing quite nicely for the tiny Swedish apparel brand that dresses Dutch speedskaters.
The logo of the scrappy retailer, Craft, has been prominent on many an orange-chested medalist—at this point 19 in all for the Dutch speedskating team, with six golds. Under Armour, meanwhile, is skidding into full damage-control mode as athletes question whether its speedskating suits are responsible for a disastrous U.S. performance thus far.
It's not surprising that the Netherlands, a nation obsessed with speedskating, has done so well on the ice in Sochi. What's surprising is that they're outfitted by a niche sportswear maker. Dutch speedskaters are arguably the most dominant and renowned squad in the Winter Games and so should have been locked down by one of the sporting apparel giants, such as Nike, Adidas, or Puma. Craft's coup is the branding equivalent of Jamaica winning bobsled gold.
The Scandinavian company, in business since 1977, doesn't dabble in any of the big American sports. Craft doesn't make batting gloves, football cleats, or basketball jerseys. It specializes in more stoic pursuits such as cross-country skiing and, of course, speedskating. Want to congratulate the company on its recent success? Just e-mail Craft Chief Executive Officer Torsten Jansson. His address is on the website.
Indeed, few Americans probably noticed last week when the Craft Facebook feed posted a story about the U.S. skaters' suit problems along with the comment: "Ouch! Lesson to learn from Holland Skating Team."
The company is never going to sell many speedskating suits, but the brand exposure could be big. Craft makes a lot of running apparel, which has become a huge and increasingly critical category for Under Armour. It also cranks out clothes for downhill skiers and cyclists, lucrative targets in the weekend-warrior segment.
Any spoils from the Olympic speedskating rink will go to New Wave Group, a conglomerate that bought Craft in 1996. Getting behind the Dutch skaters is only the latest example of New Wave maneuvering for position in the sportswear game. In 2007 it bought Cutter & Buck, a golf apparel brand, and two years later took over Canada's Paris Glove, the company behind the Auclair brand. And it has licensing deals with Speedo and Umbro, the line of soccer equipment.
New Wave doesn't break out figures for each of its brands, so there's no telling how much of its return is riding on Craft. But investors certainly seem emboldened. Since the Olympics began, New Wave shares have surged 21 percent.
Before it's here, it's on the Bloomberg Terminal.
LEARN MORE