Thai Police Clashes With Protesters in Bangkok Leave 5 Dead
Suttinee Yuvejwattana and Chris Blake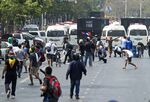 Clashes between anti-government protesters and police in Bangkok killed five people and wounded at least 65 yesterday, as the opposition edged a step forward in legal efforts to oust Prime Minister Yingluck Shinawatra.
Protesters fired guns and threw a grenade at police, injuring 33 officers seeking to clear demonstrators from an area in the historic district of the capital, said Songpol Watanachai, deputy chief of the Metropolitan Police. National Security Council head Paradon Pattanatabut said one officer was fatally shot in yesterday's clash near Government House.
The demonstrators led by former opposition party powerbroker Suthep Thaugsuban have refused to negotiate with the government, saying the protest that began in October won't end until an unelected council is put in place to reform what they say is a corrupt political system. Yingluck also faces the possibility of being impeached after Thailand's anti-corruption agency said yesterday it had enough evidence to charge her with negligence for overseeing a state rice purchasing program.
"We will go to Yingluck's lair -- the office of the Permanent Secretary of Defense," Suthep told supporters late yesterday. "We will pursue her everywhere, anywhere, anytime, all the time. We will not stand by at the stages any more, we are on a mission to follow and chase Yingluck the murderer out of this country."
Live Ammunition
Five people were killed and at least 65 injured in yesterday's clash, the Bangkok Emergency Medical Center said on its website. Other protest sites at key intersections in downtown Bangkok were unaffected. Tharit Pengdit, the director-general of the Department of Special Investigation, said 144 protesters were arrested.
The demonstrators accused the police of firing tear gas, rubber bullets and live ammunition at unarmed people.
"The police then mishandled their own explosives and dropped one on their own, injuring their colleagues," Anchalee Paireerak, another protest leader, told supporters.
Thailand has been without a fully functioning government since December, when Yingluck called an election in a bid to end the protests. The government has said the demonstrators should go home and allow elections to determine the nation's political future.
"These are not the prime minister's properties, but they are properties of all the people in this nation," Chalerm Yoobamrung, the government minister overseeing the response to the protests, said after announcing that police had retaken the Energy Ministry yesterday. He said police would work to clear other protest sites while trying to avoid clashes.
Murder Charge
Suthep's former party, the Democrats, boycotted a Feb. 2 election and protesters kept voting from taking place in some areas, meaning the ballot is incomplete and Yingluck remains in a caretaker role. The past five elections have been won by parties linked to Yingluck's brother, Thaksin Shinawatra, who was ousted as premier in a 2006 coup.
Suthep faces a murder charge for authorizing the army to use live ammunition to disperse pro-Thaksin protesters in 2010, when he was deputy prime minister. Courts have also issued warrants for Suthep linked to the most recent rallies, including one on a charge of insurrection, which carries a penalty of life imprisonment or death.
Yingluck and her ruling Pheu Thai Party face a number of legal challenges to their rule, including an investigation into the subsidized rice purchasing program at the heart of their populist platform. The opposition alleges the program has benefited politicians more than rural communities.
Corruption Claims
The National Anti-Corruption Commission said yesterday that testimony and other evidence showed that as head of the national rice policy committee, Yingluck was aware the program could lead to massive amounts of corruption. It said that corruption has occurred at all stages of the program, from purchasing to stockpiling, selling and payment.
"Instead of stopping the program, the accused person continued to run it, which shows that she was negligent in her duty, or corrupt and abused her power," the National Anti-Corruption Commission said in a statement. Yingluck will have the opportunity to defend herself against the allegations before the agency determines whether she will be indicted.
The government spent $21 billion buying the grain from the two crop years starting October 2011. The government is months behind on payments and many farmers have come to Bangkok in recent weeks to protest, adding to pressure on Yingluck, who as caretaker faces limitations on spending and new borrowing.
Bank Loans
Suthep's protesters have pressured banks not to loan the government money for the rice program. Siam Commercial Bank Pcl, the nation's biggest lender by market value, denied a rumor "circulated online and on social networks" that it was considering providing the government with a credit facility to help finance rice purchases.
Concern that state-run lenders would be asked to help finance rice purchases prompted customers of the Government Savings Bank to pull 20 billion baht ($616 million) from accounts Feb. 17, compared with normal net outflows of about 7 billion baht.
The bank initially agreed to provide a credit line totaling 20 billion baht and a 5 billion baht loan to the Bank for Agriculture and Agricultural Cooperatives, which disburses money to farmers. It reversed that decision yesterday to regain the confidence of depositors, board member Wisit Wisitsora-at said. Chief Executive Officer Worawit Chailimpamontri offered to resign to take responsibility for the run on the bank.
Yingluck defended the rice program yesterday, saying it had raised farmers' incomes and quality of life. She said there was no "conspiracy to corrupt" in the program and would welcome any investigation if it was done without bias.
"It is a pity that the rice farmers' dream for a better life is marred political games," she said in a televised address. "If all stakeholders, particularly financial institutions, are sincere to the rice farmers and actual understanding of their hardships, the rice pledging scheme could move forward without delay."
Before it's here, it's on the Bloomberg Terminal.
LEARN MORE