New Jersey Democrat Holt to Retire From U.S. Congress
Derek Wallbank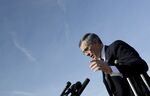 U.S. Representative Rush Holt of New Jersey, a nuclear physicist and environmentalist, said he won't seek re-election in November.
"There is no hidden motive for my decision," Holt, a Democrat, said in a statement posted to his Facebook page. "I have never thought that the primary purpose of my work was re-election and I have never intended to make service in the House my entire career."
Holt is the latest of a number of longtime members of the House of Representatives who announced their retirements in recent weeks, including Democrats Carolyn McCarthy of New York, James Moran of Virginia, and Henry Waxman and George Miller of California. Senior Republicans planning to leave Congress early next year include Doc Hastings of Washington state, Frank Wolf of Virginia, Tom Latham of Iowa and Buck McKeon of California.
Separately, freshman Democratic Representative Gloria Negrete McLeod of California today announced she'll run for a seat on the San Bernardino County Board of Supervisors rather than seek re-election.
Holt lost a primary election for a U.S. Senate seat in 2013 to eventual winner Cory Booker. The former assistant director of Princeton University's Plasma Physics Laboratory has supported environmental conservation, math and science education and deferring to scientists on science policies.
Jeopardy Champion
In 2012, Holt wrote a commentary for the science journal Nature titled "Politicians Should Think Like Scientists." He wrote, "Scientists, engineers and technologists are not necessarily smarter or wiser than others, but we have many habitual practices of mind that would be valuable in the sluggish legislative process."
Holt was a five-time champion on the television game show "Jeopardy!" during the 1970s. He beat Watson, an International Business Machines Corp. computer programmed to answer questions, in a 2011 exhibition that included other members of Congress.
Holt's name also appeared in a Jeopardy! clue in 2004: "A regular rocket scientist, U.S. Representative Rush Holt of this 'Garden State' was a nuclear physicist."
The correct response, for $200: "What is New Jersey?"
Before it's here, it's on the Bloomberg Terminal.
LEARN MORE