Hungary Unexpectedly Keeps Rate-Cut Pace After HUF Drop
Edith Balazs and Zoltan Simon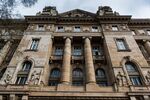 Hungary's central bank will assess the possibility of further interest rate-cuts after unexpectedly maintaining the pace of monetary easing following a plunge in the forint to a two-year low.
The Magyar Nemzeti Bank lowered the two-week deposit rate by 15 basis points to a record 2.7 percent today, in line with the forecasts of three of 23 economists in a Bloomberg survey. Nineteen predicted a cut to 2.75 percent and one saw a reduction to 2.8 percent. Rate-setters said they'd decide on further easing based on economic and country-risk developments.
Central bank President Gyorgy Matolcsy is extending Europe's longest-running uninterrupted rate-cut cycle to fortify the recovery from a 2012 recession amid the slowest inflation since 1970. As the U.S. scales back monetary stimulus, the interest-rate level curbs the appeal of Hungarian assets, Economy Minister Mihaly Varga told TV2 today.
The central bank is "feeling in risk-loving mood" and "always pushing the market a little further," Peter Attard Montalto, a London-based emerging-markets economist at Nomura Holdings Inc., said by e-mail.
The forint tumbled to a two-year low against the euro on Feb. 3 and has weakened 4.4 percent this year, the second-worst performer in emerging Europe and Africa. It weakened 0.8 percent to 310.56 per euro by 3:22 p.m. in Budapest.
U.S. Tapering
Hungary's currency plunged as the Federal Reserve continued trimming its bond purchases, triggering an investor retreat from emerging markets. Central banks from Turkey to South Africa have raised interest rates in response.
Matolcsy, an ally of Prime Minister Viktor Orban who's championed interest-rate cuts, wants to avoid similar policy reversals before April 6 parliamentary elections, Goldman Sachs economist Magdalena Polan said in a Feb. 7 report from London.
Hungary needs "cautious" monetary policy in light of heightened global uncertainty, even though its economy is "fundamentally strong compared with emerging-market" peers, the Monetary Council said in today's statement.
Central bank policy makers have argued that Hungary's current-account surplus sets it apart from more vulnerable economies such as Turkey, while the inflation outlook allows for further monetary easing.
'Bearable Rate'
Inflation was zero in January as government-mandated cuts in utility prices before the elections subdued prices. The current-account surplus is 2.4 percent of economic output.
The central bank should consider an exchange rate that's "bearable for the budget and good for exports and foreign-currency borrowers," Varga said today.
Today's rate cut will put more pressure on the forint, which may weaken past 314 per euro unless rate-setters provide guidance on the end of the easing cycle, Istvan Horvath, chief investment officer at KBC Groep NV's Budapest-based K&H Alapkezelo fund, said by e-mail.
The central bank voted 7-1 for a 15 basis-point rate reduction last month, according to minutes of the meeting published Feb. 5. Non-executive rate-setter Janos Cinkotai voted to slow the pace of easing to 10 basis points, while Gyula Pleschinger, who backed slower rate cuts in the last five meetings in 2013, was absent.
The central bank slowed its rate reductions to 15 basis points in January after 20 basis-point moves in the previous five months and 12 quarter-point cuts between August 2012 and July 2013. The bank has lowered the main rate by 430 basis points in 19 consecutive monthly steps, including today's move.
Policy makers are complementing rate cuts with a Funding for Growth plan. The central bank is providing as much as 2.75 trillion forint ($12.2 billion) in free funding to commercial banks, which in return must lend the money at no more than 2.5 percent interest to small- and medium-sized companies.
Before it's here, it's on the Bloomberg Terminal.
LEARN MORE