EU Should Consider Ukraine Sanctions, Lithuanian Says
Terry Atlas and Nicole Gaouette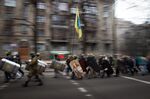 As the violence in Ukraine escalated today, Lithuanian Foreign Minister Linas Linkevicius said opportunities to resolve the political crisis are fading.
Warning that Ukraine risks sliding into civil war, he spoke shortly before police stormed a protest encampment in the capital, Kiev, after the security service and Interior Ministry demanded that the opposition halt protests or face restoration of order by force. At least 10 people died in the bloodiest day of the country's three-month standoff.
"The chance is diminishing every day, the chance to find a rational, peaceful solution is diminishing," Linkevicius, 53, said in an interview in Bloomberg's Washington office.
The European Union should weigh whether to impose targeted sanctions against Ukrainian officials if the government uses force to suppress anti-government demonstrations, he said even as aides relayed reports of an imminent showdown in Kiev.
The Ukrainian government needs to "listen to their people," and the EU should consider sanctions on officials -- including freezing assets and banning travel in much of the EU - - if they fail to do so, Linkevicius said.
"We should say that all options are on the table, and if the situation deteriorates, restrictive measures should also be considered against those who are responsible," he said. "I am not saying that they should be implemented, but should be at least considered" to show that there will be "consequences" for their actions.
He said the sanctions may include banning travel in the border-free Schengen Area and freezing assets.
Path to EU
The opposition is seeking to overturn constitutional changes that strengthened the powers of Russia-backed President Viktor Yanukovych and to return Ukraine to a path toward EU membership. The standoff began Nov. 21, when Yanukovych pulled out of a free-trade deal with the EU in favor of ties with Russia sweetened by President Vladimir Putin's offer of $15 billion of aid and cheaper natural gas.
Yanukovych agreed to meet with opposition leaders to discuss their grievances tomorrow, Speaker Volodymyr Rybak told reporters.
Linkevicius, who twice served as his country's defense minister, called for the Ukrainian government to negotiate a compromise with the opposition that would revive the EU deal, which he said would bring economic benefits to Ukraine through increased trade and investment.
He said Ukraine's EU free-trade accord also would boost Russian industry, which is "connected with Ukrainian industry some 60 percent."
"Russians cannot get rid of this zero-sum approach," Linkevicius said, and find it "very difficult to realize that it's a possible win-win solution, that it's possibly good for all, even economically speaking" if Ukraine enters the EU.
The EU needs to be "less naive" about Russia and remember that their "perceptions are totally different," he said.
The conflict in Ukraine has some resonance in Lithuania, where pro-independence protesters clashed with Soviet forces in January 1991, a year that ended with the dissolution of the Soviet Union.
Before it's here, it's on the Bloomberg Terminal.
LEARN MORE