business
Comcast-Time Warner Merger Is Good for Competition—and Consumers
Larry Popelka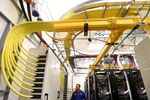 Members of Congress are lining up to criticize the proposed Comcast-Time Warner merger announced last week, threatening a careful antitrust review. This is a great example of how U.S. antitrust policy has turned into a political game instead of a serious attempt to encourage competition and consumer choice.
With all their flaws, cable companies present an easy target for politicians, and the pending antitrust review provides a forum to score points with constituents. None of this chest-pounding will lower cable bills or improve service. It may actually hurt honest competition in the long run.
The Sherman Antitrust Act was created to prevent monopolistic activities that diminish consumer choice or competition; the Comcast-Time Warner deal will do neither. The two companies' footprints are in completely separate geographies. They don't compete over a single customer, so the merger isn't going to eliminate choice for anyone.
More important, both companies are limping along, victims of big changes in the television industry that may make them irrelevant within a decade. Only about 40 percent of homes in the combined Comcast-Time Warner geography still subscribe to cable TV service, according to investment research firm Morningstar, due to inroads from satellite TV, IPTV (Internet offerings such as those of AT&T U-verse, and Verizon FiOS) and subscription video-on-demand services like those of Netflix, Hulu Plus, and Amazon Prime.
Morningstar also reports that total cable TV subscribers across all cable operators declined 10 percent in past four years; Time Warner was down 6 percent last year alone. Many analysts expect cloud-based on-demand services to take over a large portion of the industry in the next several years, enabling virtually unlimited content to be viewed anytime, anywhere. Many younger households known as "cord cutters" are walking away from cable and satellite TV for these online services, which offer more content, fewer ads, and lower prices.
The cable TV industry has no answer for this, although Comcast is the one company making an effort. It is investing in technology to provide its own cloud-based, on-demand service to subscribers. This helped Comcast perform better than rest of the cable industry last year, though it still lost 1 per cent of its TV subscribers.
Merging with Time Warner Cable will increase Comcast's subscriber base by 50 percent, from 22 million to 33 million homes, giving it access to about 70 percent of U.S. households and a bigger base over which to spread its on-demand investment. For perspective, Netflix has 29 million subscribers in the U.S. and 44 million worldwide.
Unlike Comcast, Netflix doesn't have the burden of owning and maintaining a clunky cable wiring system to deliver its product, so its capital requirements are low and it can invest more in proprietary content such as the popular show, House of Cards.
While some have theorized that Comcast's control of the physical cables that deliver Internet service to millions of homes might give the company an unfair advantage, AT&T, Verizon Communications, and Dish Network all offer high-speed broadband and are poised to capture dissatisfied Comcast users. Meanwhile, Google is testing an option —Google Fiber—that could provide speeds up to 100 times faster than Comcast.
If Comcast and Time Warner are guilty of anything, it is poor public relations. Most cable consumers hate their operators because of years of price increases, and many members of Congress are playing to this. But these pricing actions were generally driven by content providers.
Six months ago, CBS demanded that Time Warner pay more for CBS content, from 50¢ to $2 per subscriber. Time Warner chose to go without CBS for a month but lost 300,000 subscribers in the debacle. CBS came out of it with nary a blemish. A stronger Comcast with greater bargaining power would make it more difficult for content providers to extract additional payments, which might keep cable TV prices in check. Expect content providers to be vocal opponents of this merger.
Further opposition will come from bureaucrats who still use the Herfindahl-Hirschman Index (HHI) to evaluate monopoly status. The HHI is a dated metric that looks solely at market share and fails to take into account any other competitive factors. For this reason, Comcast is offering to divest 3 million Time Warner subscribers, a silly move designed solely to keep Comcast below a mythical 30 percent HHI market share threshold.
If government regulators are serious about increasing competition in the TV business, they need to look beyond old metrics and political motivations. If they did, they might actually encourage Comcast to buy up all of the remaining cable operators to give the cable business a fighting chance at competing over the next decade.
Before it's here, it's on the Bloomberg Terminal.
LEARN MORE