Bimbo Purchase Prompts Analysts' Debt Concerns: Corporate Mexico
Adam Williams and Sonali Basak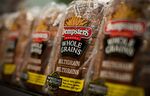 Grupo Bimbo SAB's latest acquisition to expand in North America is heightening analysts' concern that the world's biggest bread maker's debt is at a high level at a time profit is still being pinched by recent purchases.
Bimbo agreed to acquire Maple Leaf Foods Inc.'s Canadian baked-goods business for about C$1.83 billion ($1.66 billion) on Feb. 12. The company expects the deal to close next quarter. Bimbo, the owner of the Entenmann's brand, has spent about $3.4 billion to buy at least four companies since 2009: Sara Lee Corp.'s North American bakeries, George Weston Ltd.'s U.S. operations, Hostess Brands Inc.'s Beefsteak bread brand and Hillshire Brands Co. North American Fresh Bakery business.
The Canada Bread purchase comes at an "inopportune time" given the company's high financial leverage and capital expenditures, Citigroup Inc. analysts led by Alexander Robarts said in a Feb. 12 note, declining to comment further. At the time of the Sara Lee purchase in October 2011, Bimbo's quarterly net income was a record-high $167 million. Since the acquisition, quarterly profit has averaged $56.9 million.
"Acquiring a company with leverage takes years, and sometimes investors are not willing to wait that long," Gaspar Quijano, an analyst with Vector Casa de Bolsa SA, said in a phone interview from Mexico City. "The timing of the company is not the timing that investors are used to."
Rising Debt
The Canada Bread deal increases debt to three times earnings before interest, taxes, depreciation and amortization, or Ebitda, and if sustained could prompt lowering the company's credit rating from BBB, Fitch analysts led by Rogelio Gonzalez said. The acquisition is "moderately negative for its credit quality and ratings," he said in an e-mailed report.
Bimbo arranged a $2 billion line of credit due 2019 with a group including Bank of America Corp. and BBVA Bancomer SA to finance the Canada Bread acquisition.
"And while we will fund this transaction with debt, our balance sheet will remain strong and flexible," Chief Executive Officer Daniel Servitje told investors on a conference call Feb. 12. "We have a proven track record of de-leveraging through disciplined cash management."
Bimbo's debt has exceeded three times Ebitda twice before, including as recently as 2009, Roberto Cejudo, Bimbo's treasury director, said in a phone interview yesterday. With the acquisition of Canada Bread, debt is at a "perfect" level for Bimbo, he said.
"This acquisition, in addition to all of its strategic value, is absolutely finance-able for us," Cejudo said. "Under any metric, this acquisition is completely manageable and reasonable for the financial strategy of Bimbo."
Bimbo's purchase of Canada Bread is its biggest since acquiring George Weston's fresh bread and baked goods business for $2.5 billion in 2009 to expand in the U.S. market, now the company's biggest, according to data compiled by Bloomberg.
Expensive Shares
Return on assets slid to 1.5 percent in 2012 from 8.8 percent in 2007, while return on invested capital fell to 6.2 percent from 11.1 percent in the same time frame, according to data compiled by Bloomberg.
Bimbo's shares have gained 1.7 percent in Mexico City since the Canada Bread acquisition was announced. Bimbo's shares have risen 29 percent since the Sara Lee purchase was announced on Oct. 24, 2011.
Bonds due in 2022 issued by Grupo Bimbo yield 54 basis points, or 0.54 percentage point, more than similar Mexican government debt, compared with an average gap of 40 basis points over the past six months, data compiled by Bloomberg show.
Bimbo's shares, with a ratio of 51.6, are the most expensive on a reported profit basis of global food manufacturers with a market value of at least $10 billion, according to data compiled by Bloomberg.
'Challenging Scenario'
Nine of 16 analysts have a sell rating on Mexico City-based Bimbo, four have a buy rating and three recommend to hold the stock.
Bimbo, which has 148 plants and operates in 19 countries, will report fourth-quarter earnings on Feb. 20 after the close of regular market trading. It probably had net income of $102 million, according to the average estimate of four analysts tracked by Bloomberg.
Bimbo is likely to report weak profit in the U.S. and operating losses in Latin America, Corporativo GBM SAB said Feb. 13 in a research note led by analyst Miguel Mayorga. The market should be "aware of the challenging scenario that Bimbo could be facing in 2014," Mayorga said in the note.
Bimbo generated $1.17 of net income from every $100 of sales at the end of 2012, down from $5.25 at the end of 2008, according to data compiled by Bloomberg. That's the lowest margin among the biggest global food companies and compares with Kraft Foods Group Inc.'s $14.90, the data show. Bimbo's profitability improved to $3.38 at the end of the third quarter.
Under Pressure
Canada Bread is expected to add more than C$185 million to Bimbo's earnings before interest, taxes, depreciation and amortization, CEO Servitje said. Sales are expected to increase more than C$1.4 billion, he said. Bimbo made 44.5 percent of its 2012 earnings in the U.S.
"Bimbo rules North America," Vector Casa's Quijano said. "And this is an aggressive kind of decision."
Moody's lowered its outlook on Bimbo yesterday to negative from stable on the Canada Bread purchase.
"Although the transaction is strategic to Bimbo as it would allow for further revenues diversification, it would also put short-term pressure on the company's leverage," Moody's analyst Alonso Sanchez said in the statement.
Before it's here, it's on the Bloomberg Terminal.
LEARN MORE