U.S. $1 Billion Buoys Jordan Bonds as Relief Swells: Arab Credit
Nayla Razzouk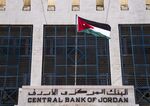 U.S. loan guarantees are boosting Jordan's bonds as investors bet the $1 billion in aid will help the Middle East nation pay rising costs for energy and relief to refugees from Syria.
The yield on the 3.875 percent dollar-denominated bonds due November 2015 dropped 20 basis points this month to 3.77 percent today. That compares with a 4 basis-point increase in the yield on the June 2015 bonds of Lebanon, which has the same B1 credit rating as Jordan at Moody's Investors Service.
The American money will augment $5 billion that oil-rich Persian Gulf nations pledged for infrastructure improvements in Jordan and will support hundreds of thousands of refugees fleeing the war in neighboring Syria. The U.S. offered its guarantee on Feb. 14, six months after pledging $1.25 billion in similar support to ease the kingdom's financing costs.
"The U.S. loan guarantee is positive news for the future," Wassim Jomaa, the head of asset management at Capital Investments, a branch of Capital Bank of Jordan, said yesterday by phone from Amman. "We also know that Jordan has received the $5 billion in Gulf grants and has started to disburse from it."
Gas Disrupted
Jordan is negotiating for the issuance of a U.S.-guaranteed bond to raise as much as $750 million this year, Jordanian Finance Minister Umayya Toukan said today in an interview in Beirut. U.S.-backed bonds are an inexpensive way to finance the budget deficit, he said.
"The alternative is to borrow domestically, and therefore we would be crowding out the private sector in Jordan for that amount," Toukan said.
Higher costs for imported fuel are draining government coffers of an additional $3.5 million a day, Energy Minister Mohammad Hamed said in a Feb. 11 interview, as sabotage in Egypt interrupted the supply of natural gas from Jordan's traditional energy supplier. Refugees who began arriving from Syria in 2011 are adding to the strain on Jordan's economy, the region's smallest after Bahrain.
President Barack Obama promised to provide $1 billion in loan guarantees to Jordan and to renew an accord ensuring a minimum level of annual aid through 2019. Jordan receives $660 million a year from the U.S. under a memorandum of understanding reached in 2008, including $360 million for economic support. In addition, Congress allocated $340 million to Jordan through overseas contingency funds in 2013.
IMF Conditions
The loan guarantees, which require Congressional approval, would help Jordan borrow money more cheaply, Jomaa said. Obama pledged the support as he met for talks with Jordan's King Abdullah II in California. He didn't disclose the level of support his administration will recommend for the future five-year funding agreement for Jordan.
Economic strains and conditions set for loans by the International Monetary Fund have prompted the Jordanian government to cut subsidies, increase electricity bills and fuel prices and raise taxes on telecommunications.
Jordan's economic growth, which had averaged 6.5 percent in the decade up to 2009, slowed to less than 3 percent for three consecutive years. The IMF forecasts growth will accelerate to 3.5 percent in 2014, the fastest pace in five years. The Central Bank of Jordan reduced key interest rates by 25 basis points on Jan. 19, the third such cut in 12 months, reducing the overnight repo rate to 4 percent and the rediscount rate to 4.25 percent.
Premium Narrows
The premium investors demand to hold Jordan's dollar-denominated debt over U.S. Treasuries tumbled 42 basis points, or 0.42 of a percentage point, this month to 309 on Feb. 14, according to JPMorgan Chase & Co.'s EMBIG Jordan Sovereign Spread index.
Aid from the U.S. and Gulf donor countries, together with a $2 billion loan from the IMF, helped Jordan increase its foreign currency reserves to $12 billion during the past year.
"Investor confidence has grown as foreign-currency reserves doubled and demand for the Jordanian dinar has increased," Saeed Kamal al-Mufleh, head of the investment department at Arab Jordan Investment Bank, said by phone from Amman yesterday. Arab Jordan Investment Bank acquired the business of HSBC Bank Middle East in Jordan last month.
Before it's here, it's on the Bloomberg Terminal.
LEARN MORE